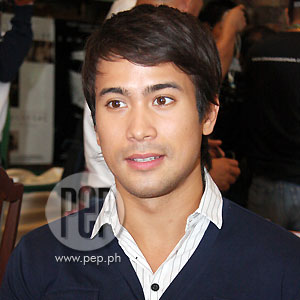 ---

Viewers can expect a different Sam Milby in the upcomingfilm titled Cul de Sac. The French title literally means bottom of thebag, but in the context of the movie, it also means "dead-end."
A call center agent (who remains unnamed in the film) findsout about a murder in the call center that he works in. He becomes obsessed infinding out the truth about the incident. Sam Milby points out that Cul deSac is very different from his previous movies because this is asuspense-thriller instead of the usual romantic comedy genre that he is usedto.


"My role is a call center agent, he's very mysterious," explains Sam during thepress conference of his film held last November 22 at Gusi restaurant in QuezonCity. "You don't know much about the guy, tahimik siya. May ginawa siyangmasama sa past niya and he ends up being a detective in the call center andredeems himself in a way."


Sam later adds: "I've always wanted to do a suspense movie—it's my favoritegenre. Cul de Sac is sort of a detective story as well."


In preparation of his action sequences in the film, Sam watched films such as FightClub (1999), which stars Brad Pitt and Edward Norton. The Star Magic talentcites Edward as his favorite Hollywood actor.
Megged by first-time director Juan Miguel Sevilla, Cul deSac also stars Jodi Santamaria-Lacson and Chin Chin Gutierrez. Jodi playsSam's officemate in the call center but the director points out that Sam doesnot have a love team partner in this film, which is a first for the matineeidol. Chin Chin is cast as a lounge singer who adds mystery to the film.
According to Direk Miguel: "The title [Cul de Sac]is derived from a French word which means bottom of the bag. But in the contextof the story, it could also mean dead end. I thought of this story when I wasstill in college. I was looking for a place to park but I found myself in adead end. In real life, it's not a dead end because you can actually make aU-turn.
ADVERTISEMENT - CONTINUE READING BELOW
"This is a story of a guy [Sam] who seems stuck on adead end. He thought he didn't have a choice but actually he has. All he needsto do is make a U-turn."
Sam praised Direk Miguel for being very professional despitehis young age. "Si Direk mas bata siya kaysa sa akin. Twenty-three lang siya,ako 24 na. Parang hindi siya first-timer sa movie. He gets you into thecharacter. He knows exactly what he's doing."
Direk Miguel confided to PEP (Philippine EntertainmentPortal) how he was able to motivate Sam to bring out the "bad boy" in him. "Saisang eksena, nagsisigawan kami ni Sam. Sumisigaw ako at siya rin, sumisigawpara pag take namin, mataas na ang energy level niya."
Cul de Sac will have its premiere on November 29 atSM Manila and it will be shown in SM cinemas nationwide starting December 3. Itis rated PG by the Movie and Television Review and Classification Board.
Sam's first indie film is the groundbreaking project ofCinemabuhay for the PLDT-Smart Foundation, which is headed by president Mr.Butch Meily and executive director Albert Martinez.
ON RUFA MAE QUINTO. After the press conference, PEP asked Sam about Rufa Mae's visit to his house. (Click HERE forrelated article.)
He explained that he invited Rufa Mae to his house monthsago. "I find it so funny na it's been an issue that we played PlayStationtogether. Yung nangyari lang, after our The Voices concert lastSeptember, we were making kuwento and sabi niya 'I want to build a new house.'Sabi ko, 'You should really see my house, ang ganda! My architect is very good.' Soshe said, 'Okay, your house is on the way to my house.' Then she said, 'Can Istop by and take a look at it?' Yun lang, she stopped by and took a look at it,yun lang," narrates Sam.
ADVERTISEMENT - CONTINUE READING BELOW
When Anne heard about Rufa Mae's visit, she called up RufaMae to confirm the news. What is his reaction to it? "Siyempre, if I heard thesame thing. I'll be bothered too, di ba?"
Did he explain that to Anne? "She asked Rufa Mae muna."


ON ANNE CURTIS. Sam wanted to avoid questions regarding his breakup withAnne Curtis. "We have not talked yet. Wala pa kaming panahon," admits Sam.


Does he have plans to reconcile with Anne? "To avoid any misunderstanding, Idon't want to get into all questions about Anne."
How did he feel when she cried on TV? "Well, I actuallydidn't get to watch. Tinext niya 'ko nung nandun pa 'ko sa Europe [for the Heartthrobstour]. She texted me kung anong nangyari."
Does he still have feelings for her? "I want to avoid mgaquestions about Anne muna."
Sam then explains: "People are misunderstanding it. I wannabe keep quiet about it but you know I respect when she came out and she saidsomething. I know people are misunderstanding it, thinking I'm using God as anexcuse. I'm not using God as an excuse and I just wanna leave it that."