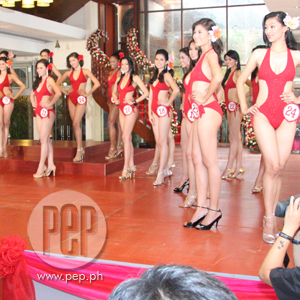 ---
Mutya ng Pilipinas, Inc., presented its 24 candidates who will vie for the threemajor titles at stake in this year's Mutya ng Pilipinas beauty pageant. Thepresentation took place at the Garden Terraces Hotel in Commonwealth Ave., QuezonCity, today, November 26.
Thecandidates sashayed in their terno (gowns) first and then later in theirswimsuits on the stage that was set up in the lobby of the hotel. Mediapeople had been invited to witness the event. To view the video of the candidates in theirswimsuits, click here .
Thethree titles at stake are Mutya ng Pilipinas-International, Mutya ngPilipinas-Tourism Puerto Princesa and Mutya ng Pilipinas-Overseas Communities. Alongwith the titles and the crowns are cash prizes: Php 200,000 for both Mutya ngPilipinas-International and Mutya ng Pilipinas-Tourism Puerto Princesa, US$2,000for Mutya ng Pilipinas-Overseas Communities and Php50,000 each for the tworunners-up.
Winnersof the three major titles will represent the Philippines in international beautypageants: Miss Asia Pacific-International, Miss Tourism International,Tourism Queen of the Year and Miss Intercontinental.
ADVERTISEMENT - CONTINUE READING BELOW
Here are the names of the Mutya ng Pilipinas 2008 beauty pageant candidates who walked the stage first in their terno (gowns) and then later in their swimsuits, including their places of origin:
1) KatrinaRigets, 23, of Quezon City; 2) Loren Andre Fermin Burgos, 21, fromCalifornia; 3) Riza Selva, 19, Quezon City; 4) Karen O'Hara, 22, Antipolo City; 5) Cresta Medez, 19, Palawan; 6) Jessica Paciente, 17, Quezon City; 7) Pia Burgos, 19, Norway; 8) Arline Nicolas 22, Laguna;9) Lizl Rosoles, 18, Naga City; 10) Angelica Damian, 22, Bulacan; 11)Rhea Niones, 23, South Cotabato; 12) Ellaine Esteban, 21, Marikina City;
13) Queency Benaldez, 18, Southern Leyte; 14) Sarah Syed, 19, Albay;15) Venice Acuna, 18, Bulacan; 16) Jonavi Quiray, 21, Palawan; 17)Kathleen Jebulan, 23, Sorsogon City; 18) Frances Urrutia, 19, QuezonCity; 19) Jamie Jean "Jam" dela Rosa, 23, Tarlac; 20) LaicaJimenez, 19, Bulacan; 21) Nadia Holloway, 20 Australia; 22) JamLibatong, 21, Cebu; 23) Maria Rochelle Rebeta, 18, Albay; and 24)Neris Dimaculangan, 20, Batangas.
Thecandidates will be flown to Puerto Princesa, Palawan, tomorrow, November 27,for the pre-pageant activities leading to the coronation night on December 7.
Mutyang Pilipinas, Inc. started in 1968. Presently, it is principally managed by MPI'spresident Roberto de Venecia. This year's pageant is produced by its executiveproducer and executive committee chairman Alberto "Bert" Abesamis, with the helpof Puerto Princesa mayor Edward Hagedorn and other sponsors.
ADVERTISEMENT - CONTINUE READING BELOW
Mutya ng Pilipinas produced beauty queens whorepresented the Philippines in various international beauty pageants. Some ofthe beauty queens of this pageant also had a career in show business.
Amongthem were Rosario "Rio" Diaz, 1977 Mutya ng Pilipinas; Yehlen Catral, 1978 Mutyang Pilipinas-Tourism; Lorraine Shuck, 1979 Mutya ng Pilipinas; Viscitacion "Tetchie"Agbayani, 1979 MP-Tourism; Rose Marie de Vera, 1980 Mutya ng Pilipinas; Marilou Bendigo, 1981 Mutya ng Pilipinas; Marilou Sadiua, 1983 MP-World; Gloria "Bong" Dimayacyac, 1983 Mutya ng Pilipinas;Aurora Sevilla, 1984 MP-World; Estrella "Star" Querubin, 1989 MP-World;Mutya Crisostomo Laxa, 1990 Mutya ng Pilipinas; Michelle Aldana, 1993 Mutya ng Pilipinas; Angelica JasminReyes, 1994 Mutya ng Pilipinas; Sherilyne Reyes, 1994 MP-Tourism International; MaricelMorales, 1995 Mutya ng Pilipinas; Daisy Reyes, 1995 MP-Tourism; Josephine Canonizado, 2000 Mutya ng Pilipinas; and Abby Cruz, 2005 Mutya ng Pilipinas-Tourism.