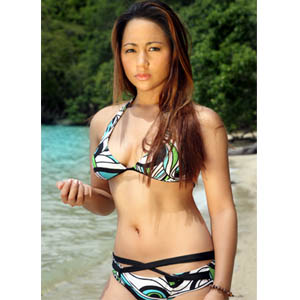 ---
On Day 32 of Survivor Philippines, lingerie model KayeAlipio got the boot and became the 13th person to be voted out from GMA-7'sreality show. Kaye also became the fifth member of the Jury, who will have thepower to pick the winner. She has now joined Jace Flores, Kiko Rustia, Vern Domingo, andMarlon Carmen in the Jury.
Kaye was voted off because of a trust issue. It may berecalled that Kaye and Cris turned their backs on their former Naak tribemateKiko early on during the merge.
Although Kaye and Cris both voted against Charisse in tonight's Tribal Council, their original Naak tribemates (JCTiuseco, Rob Sy, and Zita Ortiga) voted against Kaye. The only remaining member of the old Jarakay tribe, Charisse survived elimination after one of two votes against her was not counted because of the white pearl that was in her possession. So, the officialcount was 4-1 against Kaye.
During the Tribal Council, host Paolo Bediones asked the castaways if they deserve to be still in the game. While the castaways were answering,Marlon kept on making faces to show his disapproval. He even whispered "bullshit!"at one point when Cris said something.
ADVERTISEMENT - CONTINUE READING BELOW
Before leaving the Tribal Council, Kaye was asked by Paolo to choose between the white pearl and the black pearl, and give itto one of the remaining castaways. The white pearl will serve as a protectionto the one holding it, while the black pearl symbolizes a curse on the holder.
Kaye chose the black pearl and she gave it to Cris. Paolowarned Cris that he automatically gets one vote in the next Tribal Council. Should he fail to bring it or lose it on purpose,two votes will be counted against him.
But on his way out of the Tribal Council, Cris threw the blackpearl away. So next week, Cris has additional two votes against him. With onlyfive castaways remaining, he only needs one vote to seal his fate. Cris said that he did it "para hindi na sila mahirapan sa pagboto."
Cris, who arrived at the Tribal Council wearing the top of a woman's two-piece swimsuit, also got a warning from Paolo not to wear that again since the Tribal Council is a serious matter. Cris explained thatthey were just having fun, although he did not mention to Paolo that he wore a woman's dress to make fun of Jury member Vern, who made quite a scene for posing like a model in the last Tribal Council.
ADVERTISEMENT - CONTINUE READING BELOW
JC was safe from tonight's Tribal Council afterwinning the Immunity Challenge for the second time in a row. Nanay Zita, meanwhile, finished secondproving that at her age, she can compete against the youngercastaways who are more physically fit.