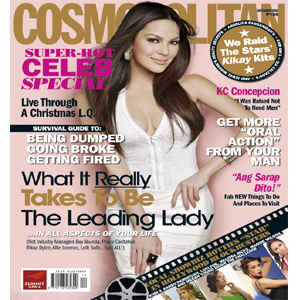 ---
KC Concepcion and RichardGutierrez have worked on two movies together, and if one is to believethe saying that "pictures don't lie," there is definitely something going onbetween them. But what's the real score?
"Ang daming nagsasabing kami, dami nagsasabing hindi. Ehhindi pa ako nagsasalita," KC points out in Cosmopolitan magazine's December issue. "We'reboth young, we travel a lot together, which makes us really close. But, we'reboth very busy and really committed to our work."
She likens this to a scenarioCosmo girls should be familiar with: hanging out with an officemate sooften, it almost looks like an office romance. But really, there's only oneword to describe KC's dating life right now: "Colorful."
"I have a few favorite people that I hang out with. I'mnot dating exclusively," KC says. Just as any fun and fearless female should,she's keeping her options open and is not in a rush to find love again. Whileher last serious relationship—with Director Lino Cayetano—fizzled, she doesn't consider this her biggestheartbreak.
"What really hurt was my first real heartbreak," she says, telling thestory of an 18-year-old KC caught in a classic case of forbidden love, onewhich gave her no choice but to end it. "That was really a big heartbreak forme because it was forced. That's the worst kind of breakup—when it's not reallyyour choice, but somebody else's dictation."
Refusing to identify the guy, KC reveals only that he was alocal celebrity. Rather than wallow in self-pity, KC moved forward with herhead held high and took the steps to becoming the strong-willed woman that sheis now.
Be fun, fearless, and fabulous like KC by grabbing yourcopy of the Cosmo Datebook 2009! Filled with tips to Cosmo-tizeevery aspect of your life, the Cosmo Datebook 2009 is a steal at onlyP200!
You can also read more about KC's thoughts on love, life, and being ashowbiz newbie in the December issue of Cosmopolitan, available innewsstands, bookstores, and supermarkets nationwide.
ADVERTISEMENT - CONTINUE READING BELOW