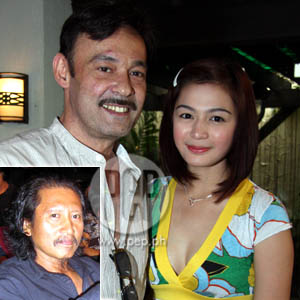 ---
It's a tie for Best Actor whilean 18-year-old bagged the Best Actress award in the 2008 Cinema One OriginalsDigital Film Festival held earlier today, November 28. The star-studdedawarding ceremony took place at the Dolphy Theater (formerly Studio 1) ofABS-CBN.


Mark Gil of the Cinema One entry Alon and Ronnie Lazaro of the Ilonggofilm Yanggaw were both cited for their outstanding acting skills. Mark wasunable to attend but Ronnie was present to receive the C-shaped trophy awarded to the winners.
"Mr. Ronald Arguelles[Cinema One channel head], maraming salamat sa paglalagay mo ng enerhiya saindustriya natin," said Ronnie in his acceptance speech.


Charee Pineda, who was previously seen in the Star Cinema film A Love Storyand the Cinemanila 2008 entry Sisa, beat more senior stars when shebagged the Best Actress Award for the film Alon. In this romance drama,she plays a young girl who goes on vacation in a seaside village. She meets amuch-older man (played by Mark Gil) who becomes attracted to her even though hestill has to take care of his dying wife (Eula Valdes).
The film Yanggaw, which means "infected" inIlonggo, was the big winner during the fourth edition of Cinema One Originals.It took home the lion's share of 14 awards given out today.
Tetchie Agbayani was chosen Best Supporting Actress whileJoel Torre was named Best Supporting Actor. Bacolod native Richard Somesearned the award for Best Director and he dedicated his award to Ilonggos whenhe went up the stage to be recognized. Best Sound went to this horror film—awardedto Joey Santos and Eduardo Velasquez—while Best Editing went to Borgy Torre.
ADVERTISEMENT - CONTINUE READING BELOW


During a short break, PEP (Philippine Entertainment Portal) was able to talk toTetchie regarding her triumph as Best Supporting Actress. She recalls that shereceived her last acting award way back in 1993 when she appeared in Sakay.According to Tetchie, her first acting award came from the Metro Manila FilmFest entry Okay Ka Fairy Ko.
During her speech, she told the stars andstaff members of Yanggaw, "Thank you for your patience when Icouldn't get my lines [which were all in Ilonggo]."
As the recipient of the Audience Choice Award, the filmmaker of Yanggawalso gets to take home the P100,000 cash prize.


Even though Yanggaw received six awards this afternoon, the Best PictureAward went to Sherad Anthony Sanchez for the film Imburnal. Aside fromtaking home a trophy, he will also get the cash prize of P200,000.
This dramais about two boys living in the slums of Matina Aplaya in Davao. Sherad took ontwo roles this year since he also wrote the screenplay of thiscoming-of-age film, which earned the Best Screenplay Award. Imburnalalso earned the Best Cinematography award for J. Geolamen, Jose Fiola and JohnTorres.


This year's jury chose the period film Kolorete as the recipient of theSpecial Jury Prize for its "fresh and imaginative take on history and for itsbeautiful cinematography..."


Written by Sherad and directed by Ruelo Lozendo, Kolorete tackles the struggleof people in a small town during the Spanish occupation. The black-and-whitefilm also bagged the distinction of having the Best Production Design among theseven entries this year.


The Best Musical Score went to Leujim Martinez for Alon, directed by RonBryant, and shot on location in Zambales.
ADVERTISEMENT - CONTINUE READING BELOW


Other entries for the fourth edition of Cinema One Originals include SenedyQue's Dose, Jon Red's MotorCYCLE, and Roman Olivarez's UPCAT.


Toni Gonzaga opened the event when she sang the theme song of Cinema One titled"Ang Buhay Natin, Parang Sine." She kept her cool evenwhen she encountered technical difficulties before she could sing her song. Sheeven joked, "Ang buhay talaga, parang sine kaya mag-take twotayo!"


Sam Milby also graced the event to sing "Mahal Pa Rin" as anintermission number while he strummed his guitar. The presence of the matineeidol enlivened the crowd, which was composed mostly of students.
Eugene Domingo, who was part of this year's jury, brought the house down withher impromptu jokes. When she presented the Best Screenplay Award and SpecialJury Prize along with Lance Raymundo, she told the crowd, "Hurado na ako!Palakpakan! Nag-enjoy ako sa ibinigay ninyong trabaho."
This year marks the first timethat Cinema One will go on school tours to hold question-and-answersessions with filmmakers, the stars, and students about filmmaking.
Cinema One channel head Ronald Arguelles believes thatbringing the films closer to the students will be beneficial to indiefilmmakers in the long run. "This year's successful campus tour of theCinema One Originals only shows that digital films are making a mark in academe. It has also tapped the younger generation of moviegoers that CinemaOne has always been wanting to capture."


The hosts of the awarding ceremony were Bianca Gonzales and reporter AtomAraullo.
This year's entries will be screened at IndieSine, RobinsonsGalleria, from December 3 to 10.
ADVERTISEMENT - CONTINUE READING BELOW