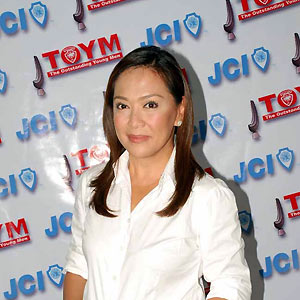 ---
ABS-CBN broadcast journalist Karen Davila has been named asone of the Ten Outstanding Young Men this year by the Junior ChamberInternational Philippines. Aside from Ms. Davila, this year's honorees includeTourism Sec. Ace Durano, Antonio Alfonso, Rex Bernardo, and Christian Camagun.They will be awarded by the JCI Philippines in Malacañang this Saturday, December20.
"I feel so humbled to be recognized," said Ms. Davila about her award. "It inspires me to continue looking for stories that can improvelives and bring about change in this country."
Ms. Davila, who anchors TV Patrol World, TheCorrespondents, and Wonder Mom, is the third Kapamilya broadcastjournalist to join the prestigious circle of TOYM awardees following ABS-CBNHead of News and Current Affairs Maria Ressa and Sen. Loren Legarda.
Her two-part documentary on "Yellow Babies," whichshowed the effects of the life threatening liver disease biliary atresia, notonly saved the life of a one-year-old baby, but also opened the discussion forthe need of a liver transplant facility in the country.
She recalled that the airing of the documentary in TheCorrespondents and a discussion in a radio program on DZMM helped raise P3million for the baby to be treated in Taiwan.
"It not only showed the power of television and thereach of ABS-CBN, but more importantly, it demonstrated that television canchange lives. The boy is now seven yearsold and it makes me feel good," she said.
The JCI cited Ms. Davila for being able to marshal herbeauty, talent, and drive in using television and radio as powerful tools foreducation and social change.
"She walks her talk, using her celebrity and influencefor advocacy work for global institutions, such as World Vision and Habitat forHumanity," cited the JCI.
The TOYM Award is widely recognized as the country's mostprestigious recognition for young men and women whose selfless dedication totheir field makes significant contributions to the Philippines.
ADVERTISEMENT - CONTINUE READING BELOW