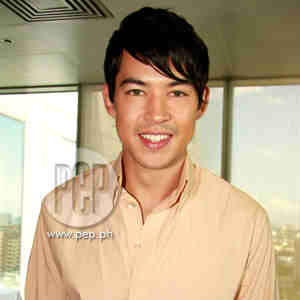 ---
Filipino-British actor Jon Avila could be one of the half-Pinoyswho will miss celebrating Christmas in the country where they grew up.
In an interview with PEP (Philippine Entertainment Portal), theKapitan Boom actor admitted that he misses having a good time with hisfriends in the U.K. during Christmas. "I miss being with my friends, just go out at the pub and then go out inthe streets to party," he said.
Jon said, though, that during thefour years he has been staying in Manila, he has learned to enjoy the Pinoys' traditional way ofcelebrating Christmas. In fact, hesaid, he loves it here more because, "dito sa Philippines kasi, maraminggagawin, e. Sa U.K., it's just drink, eat,drink, eat, 'tapos tapos na. Pero ditokasi, you can visit families, basta ang daming puwedeng gawin dito sa Pinas."
So, what's his plan on December25?
"Me and my mom will be spendingChristmas in San Ildefonso [Bulacan]. My mom's here right now. 'Tapos we'll be giving out food and gifts tounfortunate kids, para iba."
Jon is grateful for the goodthings that have happened in his showbiz career this year. He says he never expected to get the famehe's getting right now, especially since he's a newcomer in the industry.
"It's been an amazing journey,"described Jon about his newfound career after modeling. "I've learned a lot about myself and aboutthe industry and about people. Everyfactor in my life, I learned about it—friends, family, pressure, stress. And also the good things like, inspiringpeople, making other people laugh. Itreally makes me feel good. Pero I'mvery, very blessed right now."
ADVERTISEMENT - CONTINUE READING BELOW
So far, Jon has already learned alot of things about show business.
"I've learned that you have to beconscious of what kind of impression you're going to give to people. You have to appreciate people around you,the people who have helped you... Bastayou just have to really work on relationships talaga, kasi sometimes you haveto keep your feet on the ground. Sometimes [fame] can take you up and you're in a different world na,e. Kasi, the showbiz industry is ibangklase ng industry."
How about the intrigues that comehis way? How does he deal with them?
Intrigue "comes with the job as a celebrity,"said Jon. "You have to learn na how deal with it. You have to have the "malakas na loob," kailangan talaga 'yon. Imean, I'm a sensitive person, e, sometimes I can't handle it."
Instead of getting annoyed with negative issues in showbiz,Jon takes them positively, hoping that, "It makes me stronger as a person. I just hope na I can last in the business."
For 2009, Jon wishes for more TV and movie projects. To achieve this goal, the aspiring dramaticactor will improve in his acting skills by developing his Tagalog.
"Siyempre, mag-aaral ako ng Tagalog mabuti. Kailangan talaga kung nasa showbiz ka. Gusto ko mag-drama and horror I'd like to also work with mga idols ko,"ended Jon.