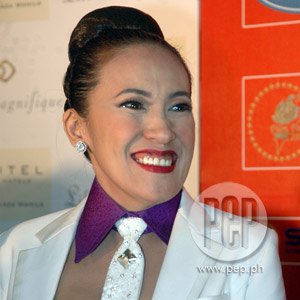 ---
Ai-Ai delas Alas, Ang Tanging Ina N'yong Lahat main star andco-presenter for the three Best Picture awards, with Senator Jinggoy Estrada,summed it all up with her funny remark after announcing the Second Best Picturewinner in last night's 34th Metro Manila Film Festival Awards Night:"Ay, kami na pala yun! Akala ko kami ang Best Picture. Ikaw [Jinggoy] na angmagbasa ng Best Picture. Hindi na ako excited, hindi na kami, e!"
MMDA Chairman and MMFF Chairman Bayani Fernando made acontroversial ruling two years ago on the criteria for choosing the BestPicture winner; whoever gets the highest gross in the box office wins the topplum. That is why in 2006, OctoArts and M-Zet Productions entry Enteng Kabisote 3: TheLegend Lives On And On bested notable entries of that year, including StarCinema's Kasal, Kasali, Kasalo and CM Films' Ligalig.
The third installment ofthe sitcom turned movie serial of Vic Sotto was leading the first week of thefestival. Ironically, by the end of the MMFF 2006 two-week screening, Kasal,Kasali, Kasalo outgrossed Enteng Kabisote, but the award remained on the shelfof OctoArts Films.
Last year, with the new ruling in place, everyone expectedit to be the year of Star Cinema's Sakal, Sakali, Saklolo, the sequel of Kasal, Kasali, Kasalo, as it has led all theten entries in the box-office. Star Cinema's quest to get the top plum failedagain as Resiklo, the fourth movie in the box-office race—after Sakal, Sakali,Saklolo, Enteng Kabisote 4, and Shake Rattle & Roll 9—took home the BestFestival Picture with four other technical awards.
ADVERTISEMENT - CONTINUE READING BELOW
During Chairman Fernando's thanksgiving presscon after winningthis year's Celebrity Duets earlier this month, he reiterated that the rulingof highest grosser becomes the best picture stays. This was not to be, again.
The MMFF awards ceremony last night, December 27, at theSofitel Philippine Plaza overturned that Best Picture criteria again as thewinner of the most number of awards, Viva Films' Baler, was also named BestPicture; thus Ai-Ai's off-the-cuff joke.
In its official gross for the first day, Baler trailedbehind Ang Tanging Ina N'yong Lahat, Iskul Bukol: 20 Years Later, Shake, Rattle& Roll X, and Desperadas 2; just besting three other entries: One NightOnly, Dayo, and Magkaibigan.
WINNERS ALL. This year though, the MMFF committee made sureeveryone got at least one award and no shut-out happened. This made Rufa MaeQuinto remark that at least "consistent ang Desperadas, ha, dahil last year,ito [Best Festival Make-up] lang din ang napanalunan namin!"
Regal Entertainment producer Lily Monteverde, who was notable to get the award on stage, "forgot" to bring the trophy home when she leftthe proceeding with supervising producer Manny Valera looking for the trophyupon knowing it was "left" on the table.
It was a night of statistics for two winners: Baler's Phillip Salvador (Best SupportingActor) and Anne Curtis (Best Actress). For Ipe,this is his comeback movie in seven years and his first acting award from MMFF.For Anne, this is her first acting award since joining showbiz 12 years ago.
Interestingly, most of the winners from Baler who went tothe stage and were given the opportunity to make a thank-you speech—thefirst eight awards were just announced with the winner simply getting thetrophy on stage—thanked Senator Edhardo Angara and PAGCOR first before theirproducer, Viva Films.
ADVERTISEMENT - CONTINUE READING BELOW
Among the performance winners, Manilyn Reynes was not ableto personally accept her Best Supporting Actress award for One Night Only. JoeyReyes, writer and director of the movie, received the award for her;thanking the actress for accepting the role even if she knew she was just alast-minute replacement as the lesbian lover of Jennylyn Mercado in the movie.Manilyn's manager Olive de Jesus was surprised that her talent was evennominated. This could be the same reason that Best Child Performer Robert Villarfor Shake, Rattle & Roll 10 was not around to accept his award.
As of last year, the nominees in all categories were notmentioned. As host Boy Abunda explained, all movies and performances areautomatically nominated in their respective category. There was an exceptionthough; singers Richard Poon and Sitti only performed six theme songs as thetwo Regal entries, Desperadas 2 and Shake, Rattle & Roll X, have no themesongs.
MISSING IN ACTION. The MMFF 2008 Awards Night was filledwith the stars of the eight film entries—like Magkaibigan's Christopher deLeon, Jinggoy Estrada, Dawn Zulueta, and Maricel Laxa; Desperadas 2 girls RuffaGutierrez and Rufa Mae Quinto; One Night Only's Diana Zubiri; Ang Tanging InaN'yong Lahat's Ai-Ai delas Alas; and Baler's Anne Curtis, Jericho Rosales, andPhillip Salvador. But there were several curious cases of non-appearance such asthe cast of Iskul Bukol, Katrina Halili (One Night Only), and Marian Rivera (Desperadas 2 and Shake, Rattle & Roll X).
No cast member of the reunion movie of Tito, Vic & Joeywas in the audience. PEP (Philippine Entertainment Portal) later found out thateveryone is on vacation, mostly in Tagaytay, for a pre-New Year bonding. Co-producer Orly Ilacad of OctoArts received the 3rd Best Picturetrophy for Iskul Bukol.
ADVERTISEMENT - CONTINUE READING BELOW
Meanwhile, Marian, who was definitely among the mostdiligent stars when it comes to promoting a movie, was also not around. "Hindipo" was her manager Popoy Caritativo's reply to PEP when we asked him if histalent is attending the ceremony.
Interestingly, opening the night's ceremony were YengConstantino, Sheryn Regis, and Karylle.
Another very diligent star when it comes to promotion isKatrina, who has just been involved in another controversy, the VickiBelo-Hayden Kho breakup.
BOOBOOS. Two notable slips were made. First by red-carpethost Tim Yap, who praised Maricel Laxa as "one of the most beautiful actresses tograce showbiz since That's Entertainment days." Maricel was never part of theteen show of German Moreno, although she was one of the female hosts of theother Kuya Germs show then—GMA Supershow.
In announcing this year's screening committee, the voiceoverhost mentioned Angie Magbanua as among its members. Host Boy Abunda had tocorrect this immediately since "our dear colleague has passed away more than ayear ago."