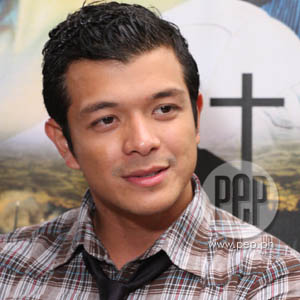 ---
Actor Jericho Rosalesis indeed back after a long lull when it comes to his showbiz career. 2008,according to Jericho, is a good year and he capped his comeback via Viva FilmsMetro Manila Film Festival entry Baler,opposite Anne Curtis, who bagged the Best Actress award at the awarding ceremonyheld last night, December 27, at the Harbor Tent of the Sofitel Hotel in PasayCity.
Talking about 2008,Echo (Jericho's nickname) told the entertainment press last night: "Very good.Very colorful. Roller-coaster ride na, you know turned out to be really, really,really good. The end of the year was good for me, Kahit Isang Saglit [his soap in ABS-CBN] did really well so maayos sa 'kin 'yon.
"I'm very happy aboutthat the film here, Baler, di ba? Alot of good things happened. My personal life, sa family ko, and my career,everything's doing well."
As early as now, 2009is shaping out to be a busier year for Jericho. He cited two drama series, amovie, and endorsement deals all lined up for him to do.
ADVERTISEMENT - CONTINUE READING BELOW
HAPPYFOR BALER'S SUCCESS. Echo is proud of Baler's success both commercially and as an award winner. Last night,the historic film amassed a total of ten awards, including the Best Picturetrophy. Jericho, unfortunately, came short against Magkaibigan's Christopher de Leon in the Best Actor category.
"Glory to God, that'sall I can say. Viva Baler!" said Echowhen reminded of the movie's current standing against the other competingentries. "Maraming salamat sa lahat ng nanood and keep watching it, it's a goodfilm."
With all the blessings,it seems like Jericho has completely moved on following the breakdown of hisromantic relationship with actress Heart Evangelista a few months back. Echothough would rather lead an unattached lifestyle for the moment to make surethat his career won't get sidetracked just like in the past.
"Wala. Wala akongnililigawan," he stressed, before adding, "I wanna make a lot of friends talaga.I wouldn't say collect and collect and select for me, hindi ako ganun. Ano lang,I'm discovering a lot of things about myself in being single. So enjoy talagasiya, masaya. Alam mo 'yon, I want to be a friend, hindi lang sa mga kaibigankong lalake, pati dun sa mga babae."
ADVERTISEMENT - CONTINUE READING BELOW