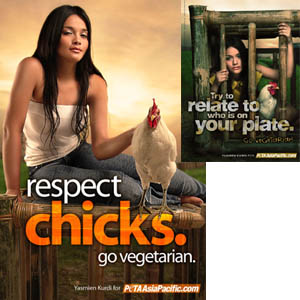 ---
The People for theEthical Treatment of Animals or PETA welcomes 2009 with its latest campaignfeaturing longtime advocate, actress-singer Yasmien Kurdi.
PEP (PhilippineEntertainment Portal) received an e-mail from the world's largest animal rightsorganization, with an attached a copy of the campaign posters that will get the message across to a wider audience.
PETA explained thepromotional materials: "In the first ad, Kurdi poses inside a cage with afellow chick—a baby chicken, that is—under the tagline 'Try to Relate to Who'son Your Plate. Go Vegetarian.' In the second, Yasmien poses on top of a cageunder the tagline 'Respect Chicks. Go Vegetarian.'"
A staunch supporter ofPETA and its ideals, Yasmien has been very active in using her celebrity statusto provide awareness and encourage the public to drop meat from their diet and practice a healthy lifestyle by eating vegetables instead.
"With so many deliciousalternatives now available, it's easier than ever to enjoy great food withoutcausing animal suffering... Ang laking help ng pagiging vegetarian kasi angpagiging vegetarian nali-lessen ang mga diseases, lalo na 'yong mga heartdiseases, kidney, at kung anu-ano pa," said Yasmien in a 2007 interview.
The new campaign reiterates PETA's appeal to the public to embrace a healthy lifestyle.Aside from reducing, if not eliminating the chances of acquiring diseases,being a vegetarian helps in reducing the appalling practice ofsubjecting animals to cruel treatment. An investigation revealed that animalsraised intensively in factory farms regularly undergo tail docking, debeaking,and castration without pain relievers that would at least ease the suffering.