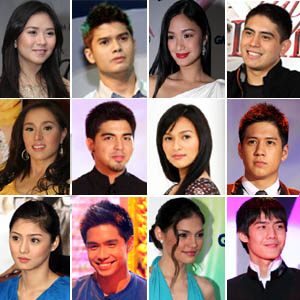 ---
PEP (Philippine Entertainment Portal) lists down the 12stars we think will make an impact in the Year of the Ox. They may not benewbies in the showbiz industry, but they are the names to watch for thisyear.
These stars have established themselves as the forces to reckon with in an industry where new faces sprout like mushrooms. They were given breaks for the first time and have proven that they can topbill a show or a movie, while the others, we feel, deserve to be given breaks and let them shine.
They are the stars who in the next few months will be mentioned so often in showbiz talks shows, tabloids, broadsheets, and here in PEP. Their every move will be observed by their fans and critics as well.
Here are PEP's Best Bets for 2009:
SARAHGERONIMO
Most likely to be crownedBox-Office Queen this year because of the box-office success of A Very SpecialLove opposite John Lloyd Cruz, Sarah Geronimo is on her way to being one of themost important stars of 2009. Sarah is actually a triple threat among hercontemporaries—she can sing, act, and host. With her newfound magic in thebox-office, it's inevitable that she gets more projects in movies (a sequel ofA Very Special Love is now in the works) and television (an upcomingteleserye). Her singing career is also one of the brightest in recent years,producing hits from one song to another.
ADVERTISEMENT - CONTINUE READING BELOW
HEARTEVANGELISTA
Who would have thought that afterbeing considered a has-been even before reaching her peak, Heart Evangelista isnow the current queen of primetime television via her first solo soap as a Kapuso star, LunaMystika. After transferring from ABS-CBN to GMA-7 and changing management,Heart was able to resurrect her showbiz career. After Luna Mystika, Heart isexpected to star in the Pinoy adaptation of the hit Koreanovela Full House.
CRISTINEREYES
Although she was criticized for herdecision to leave GMA-7 and move to ABS-CBN, Cristine Reyes was able toprove that she made the right choice. She was able to establish herself asone of the most desirable young sexy actresses in her generation. Her turn asEva Fonda is one of the most daring performances ever tackled by a youngactress and she was able to pull it off with just the right sensuality. It will be no surprise if Cristine would get more juicy projects inthe future, not only in television but in movies as well.
ADVERTISEMENT - CONTINUE READING BELOW
JENNYLYNMERCADO
Love and pregnancy may have stalledJennylyn Mercado's career for a while, but she is about to make a grandcomeback this year starting with GMA-7 Sine Novela Paano Ba ang Mangarap?, where shewill reprise the role originally portrayed by acting great Vilma Santos. Jennylyn is out toreclaim her lost glory and she might give the recent crop of young stars a run fortheir money.
KIMCHIU
With most of the young stars goingthe more daring route, Kim Chiu remains one of the most wholesomepersonalities in showbiz. Kim still gets prime projects from her home network,ABS-CBN. She will be next seen in the upcoming primetime soap Tayong Dalawa,with perennial screen partner Gerald Anderson and Jake Cuenca.
RHIANRAMOS
Non-believers suddenly becamebelievers as Rhian Ramos proved that she can also carry a show; thanks toLalola, where she essays the role of a playboy who was turns into a womanbecause of a curse. Interestingly, negative issues about Rhian suddenly stoppedwhen Lalola started airing. Proof of this is her noticeable absence on showbiztalk shows explaining her side about a certain issue. After Lalola, Rhian mightbe reunited with Richard Gutierrez in the Pinoy adaptation of the swashbucklingseries Zorro.
ADVERTISEMENT - CONTINUE READING BELOW
JC DEVERA
There's no doubt that JC de Vera isone of the hottest young actors today. After giving commendableperformances in the heavy drama Babangon Ako't Dudurugin Kita and the romantic comedyseries Lalola, JC is now considered one of the better actors of his generation. JC might be GMA-7's arsenal in the drama department, along with Mark Anthony Fernandez.
GERALDANDERSON
Gerald Anderson's team-up with KimChiu is still one of the top love teams in the country. Gerald is also showing great promise in acting, tackling more challenging roles like that of a rebelin Your Song Presents My Only Hope and a cadet in the upcoming ABS-CBN primetimeseries Tayong Dalawa.
MARKHERRAS
Mark Herras's showbiz career wasobviously affected when his love team with former girlfriend Jennylyn Mercadotook a break because of the young actress' relationship with Patrick Garcia andher pregnancy. But their reunion in a two-part special episode of Dear Friendproved that they still have loyal fans who want to see them together—onscreenand even in real life. Mark will be paired again with Jennylyn the upcomingafternoon soap Paano Ba ang Mangarap?.
ADVERTISEMENT - CONTINUE READING BELOW
ALJURABRENICA
Being groomed as a hunky actor,Aljur Abrenica might be the next big thing in the Kapuso network. Given moretime, the StarStruck 4 Ultimate Hunk will surely emerge as one of the mostimportant young actors in his generation. Aljur is currently seen in thetop-rating primetime fantaserye Luna Mystika.
JCTIUSECO
The first-ever Pinoy Sole Survivorhas already developed a fan base that puts him in the league of some of themost popular stars in the country. After winning Surivor Philippines, JC wasvery open in saying that he wanted to try his luck in showbiz and lady luckseems to be on his side. JC just signed up with GMA-7 and rumor has it that he will beintroduced in the Richard Gutierrez-KC Concepcion movie When I Met U. A sourcealso told PEP that the San Sebastian varsity player might be paired with MarianRivera in another movie.
ROBIDOMINGO
Pinoy Big Brother Teen Edition Plusrunner-up Robi Domingo is emerging as one of the future matinee idols ofABS-CBN. His wholesome image and happy disposition make him a stand out among hiscontemporaries. Aside from acting and studies, Robi is now making a name for himself as aVJ in MYX channel.
ADVERTISEMENT - CONTINUE READING BELOW
Aside from these names, watch out for the newcomers thatwill come from the third season of Pinoy Big Brother Teen Edition and the Batch5 of StarStruck which are slated to happen this year.
CLICK HERE to find out PEP's list of faces to watch out for in 2009.
(Do you agree or disagree with PEP's list? Please feel free to comment and make your own list in our Comments section.)