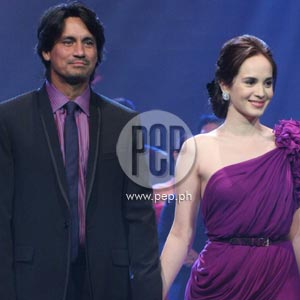 ---
"Lucy is two months pregnant."
Several columnists mentioned this in tabloids early this week. And it was deemed welcome news by showbiz fans, who have been wishing a second baby for the couple.
Even Lucy Torres-Gomez has been very open about wanting to have a baby brother or sister for Juliana. In one of her previous inteviews with PEP (Philippine Entertainment Portal), she said: "I always say every month, 'I think I'mpregnant. You know, they say you have to play it so every month 'Ithink I'm pregnant.' I always think that I'm pregnant. We're really trying but it hasn'thappened yet. I always say that it's all going to happen in God's planand in God's time."
But in a phone conversation with her husband today, January 7, at 7 p.m., Richard said, "Hindi totoo. Hindi ko nga alam kung saan galing 'yan."
Richard and Lucy will celebrate their 11th year as a married couple on April 28.