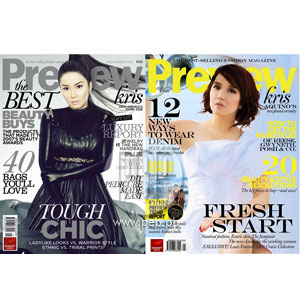 ---
When Kris Aquino first graced Preview in November 2007, heads turned to take a second look at the magazine's cover. After all, it wasn't everyday that audiences saw the bubbly and energetic Kris looking severe in an all-black ensemble. She has always been known for the colorful outfits that people have come to look forward to every Sunday afternoon on The Buzz, so seeing her all done up in tough chic—which was one of the strongest fashion trends for Fall-Winter 2007—came as quite a shock.


Fast forward to January 2009—Kris returns to the cover of Preview to jumpstart the New Year. In stark contrast to her dark and brooding cover, Kris is serene in her all-white ensemble. Was this something that Kris intentionally requested?
"Kris asked if it could be as different as possible from the first shoot," says Preview editor-in-chief Pauline Suaco-Juan, "The polar opposite of black is, of course, white. And since we know that the little white dress will be one of the strongest trends for Spring-Summer 2009, we thought it would be nice to see Kris in all-white ensembles this time."
Since Kris wanted to see the works of some young, new designers, Preview came up with a line that showcased the works of both industry stalwarts and young mavericks in the world of fashion.
Kris is the picture of calm and serenity as she poses aboard a yacht. The Preview team was initially hesitant to propose an outdoor location for the shoot—one, because their first cover shoot with Kris was in a studio where they could control the environment; and two, they had heard that Kris didn't like the heat.
"Being on a docked yacht under the afternoon sun was not the most glamorous of situations," says Suaco-Juan. "But Kris surprised us by readily agreeing. In fact, she was so zen during the whole shoot. It was [also] a blessing that the weather was fantastic!"
ADVERTISEMENT - CONTINUE READING BELOW
The weather may have helped, but perhaps Kris looks so serene because her life has been relatively peaceful as well.
"I've been doing Hatha yoga for three months now," Kris shares with Preview. "It's really helped my perspective in life. You don't get so stressed. It's amazing."
As Kris sits down with the Preview team to do some catching up, it's clear that much has changed with Kris. One of those things is the way she views her work.
"I give my work so much more respect now because I realize that that's the only way you'll continue to grow," she says, "Ayaw ko na mag-diva-divahan. There's no need for that anyway."
Part of this realization stems from the lessons she has learned from husband James Yap, who is in an industry where teamwork is essential. "He plays in a team. If they're late, they're fined 3,000 bucks! And [if a] teammate blows it, they never blame each other. You have to respect that," she says. "I'm realizing na since binigbigyan ka ng special treatment, you might as well be worth it by being nice."
Discover more about Kris and her newfound serenity in the January-February issue of Preview, available in news stands, bookstores, and supermarkets nationwide.