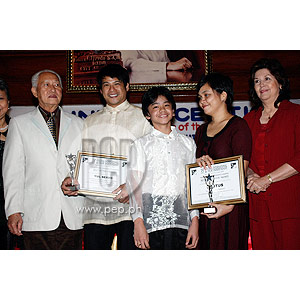 ---
On the second floor of the Manila City Hall, Hon. Councilor JohnMarvin Nieto works quietly for his constituents in Manila's third district. Other councilors like himself work as lawyers anddoctors, but when Mr. Nieto goes back to his other occupation, he takes onanother persona: Yul Servo, the actor.
Last night, January 14, Manila Mayor Alfredo Lim hosted a formal dinnerreception in honor of actor Yul Servo and Brutus director Tara Illenberger.The event was co-hosted by Gregoire Vardakis, Belgian ambassador to thePhilippines.


When Yul Servo was called to give his speech, the audience at the Bulwagang Gat Antonio Villegas gave him a standingovation. The actor-politician said that he was grateful to Mayor Lim for honoring the Filipino awardees in the 35th BrusselsInternational Independent Film Festival last November 2008.


Yul exclaimed, "Kakaiba! Nasa bulwagan kaagad ako! Usually kasi ginaganap ito sa bahay ng ambassador, pero nag-offer si Mayor Limna dito gawin sa City Hall."


This was the first time that the Office of the Mayor invitedluminaries from the film industry, members of the diplomatic corps, and keyofficials of the City of Manila to witness the awarding of plaques to Yul anddirector Tara.
Last year, the Prix du Meilleur Acteur (Best Actor Award)was given to Yul for playing the lead roles in two entries: Torotot, asex film about crimes of passion, and Brutus, an environmental filmfeaturing Mindoro Mangyans transporting illegal logs down a river. According to direk Maryo J. delos Reyes, Yul's manager, the actor impressed theinternational jury of Brussels IFF because he portrayed two totally differentcharacters—one, a jilted lover, and the other, a doctor turned rebel in the New People's Army (NPA).
This is Yul's third time to receive a Best Actor award from the Brussels IFF. In2002, Yul and Joel Torre were both recognized for the film Batang West Side,directed by Lav Diaz. In 2004, Yul once again earned the Best Actor plumfor Naglalayag, megged by direk Maryo.
ADVERTISEMENT - CONTINUE READING BELOW
Meanwhile, young director Tara was recognized for the film Brutus,her directorial debut after being an editor for the past few years.Her recent work in A Love Story was recognized for Best Editing in the26th Luna Awards organized by the Film Academy of the Philippines.
Aside from competing in Brussels, Brutus participatedin the Third Eye Asian Film Festival, the Kerala Film Fest in India, and the35th Chicago International Film Festival. The movie also bagged the NETPAC Award in the28th Louis Vuitton Hawaii Film Festival last year.
Among those present during the awarding ceremony weredirector Brillante "Dante" Mendoza of Serbis fame, Mowelfund trusteeBoots Anson-Roa, scriptwriter Raquel Villavicencio, and child actor TimothyMabalot, the young Mangyan who accompanied Yul's character in the movie Brutus.
SEEKING REELECTION. PEP (Philippine Entertainment Portal) asked Yul if hehas plans of running for higher office in the 2010 elections. Herevealed, "Tatakbo ako for my second term as councilor of the third district ofManila. Tuloy-tuloy lang ang pagsilbi ko sa Manila."
As for his acting career, Yul is currently seen in the GMA-7 primetime comedyshow LaLola. He will soon be working on the film Kamoteng Kahoy,written by Ricky Lee. Direk Maryo helms this project, which is inspired by thetragedy involving insecticide-toxic kamoteng kahoy (cassava).
In March 2005,around 25 grade-school kids died after eating cassava cooked by a grandmotherresiding in Mabini, Bohol. Ricky Lee spent days in Bohol interviewing thesurvivors; subequently, he wrote a fictional story onthe aftermath of the tragedy.
Kamoteng Kahoy will be topbilled by young stars Nash Aguas, Robert"Buboy" Villar and Sharlene San Pedro. Direk Maryo is eyeing GloriaRomero to play the grandmother who is ostracized by the community for having cooked the poisonous cassava that she sold during the children's recess.
Yul is also slated to appear in the film ForgottenWar, which is about the Korean War. Directed by Carlo Cruz, thismovie stars Baron Geisler and Lance Raymundo.
ADVERTISEMENT - CONTINUE READING BELOW