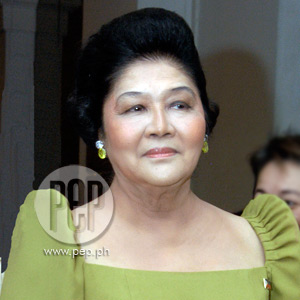 ---
This year marks the 40thfounding anniversary of the Cultural Center of the Philippines (CCP), Roxas Boulevard,Pasay City. The year-roundcelebration kicks off on February 1, at the CCP Pasinaya Open HouseFestival, which coincides with National Arts Month.
A special presentation to the press took place last January 14, at the CCP Main Theater. The Center's calendar of events for 2009 and itsnew logo with the slogan "Life Begins Anew" were launched during the event.
"The CCP for the lastfour decades has helped discover, nurture and support Filipino artists. I thinkthat's one of the major achievements of the CCP," president and artistic director Nestor Jardin proudly said during the launching.
Hepointed out that the institution's various projects through the yearshave "helped create an outstanding body of original Filipino work that speak ofus as a nation and has helped define our national identity."
IMELDIFICTRIBUTE. In line with this year's celebration, the CCP pays homage to its founder whose vision undeniablypaved the way for Filipino culture and the arts to flourish both here andabroad. TheCultural Center of the Philippines was the brainchild of former First LadyImelda Romualdez Marcos. It was instituted in 1966 throughExecutive Order No. 30 and formally inaugurated on September 8, 1969.
"For this year, we'renot only inviting her, we're giving her a tribute," announced Mr. Jardin, who initially tried to withhold the information.
The current CCP headsare fully aware that their decision to recognize the widow of former PresidentFerdinand Marcos may not sit well with non-government organizations,particularly among artists who fought against Marcos's martial law through their art.
Mr. Jardin addressedthe issue head on: "You cannot ignore the fact that this was hervision, this was her idea. We're looking at it from an institutional point ofview. Hindi maganda para sa amin na hindi bigyan ng parangal 'yong gumawa nito."
The special tributewill take place on September 8, the 4oth anniversary of the CCP.
ADVERTISEMENT - CONTINUE READING BELOW
"It's a whole day eventcapped by an eight o' clock gala here at the Main Theater. Then on September11, we'll do a special tribute to her, featuring the artists whom she supportedin the past, mostly musicians."
HOMAGE IS NOT POLITICAL. In an interview with Aruel Yonzon, CCP's associateartistic director for theater operations, he said that Mrs. Marcos has an idea of the forthcoming tribute.
"Parang alam niya butnot personally, like directly. Alex Cortez has been tapped todirect the event, may title na nga siya, e, 'Dahil Sa Yo' being her [Imelda]favorite Filipino folk song ditty. Si Alex Cortez is a close friend of theMarcoses even from way back, nung mga bata pa sila nila Irene [daughter of the Marcoses] so, I supposed she has a hint but she's not directlyinformed about it. Pero we're having talks and coordination with the children."
Yonzon stressed that the CCP is paying tribute to its founder based solely on hercontribution and vision to help Filipino arts and culture. Imelda and herfamily's political image is a non-factor at this point. On the issue that the CCP was built on the people's taxes, he argued:
"Unang-unang sasabihinng mga kritiko niya hindi naman kanya 'yan e, pondo naman ng bayan ang ginamitsa pagpapatayo ng gusali. But we have to acknowledge the fact that to a certaindegree her administration, or the Marcoses, were some sort of a visionary [couple] forhaving thought of putting up, say a cultural center, or in which case let's talkabout the Philippine High School for the Arts, The National Arts Center in Mt.Makiling.
"The same thing withthe Cultural Center, if they did not come up with this building or with thisinstitution there'll be no CCP right now. As far as CCP is concerned, ganun 'yongcontribution niya and we're benefiting from that now. So, for whatever misgivingsor for whatever 'crimes' they may have had, what we're saying is we pay tributeto what they contributed to the arts as far as the culture and arts sector isconcerned. Medyo isang-tabi natin 'yong [political], you know, nobody's perfectanyway."
ADVERTISEMENT - CONTINUE READING BELOW