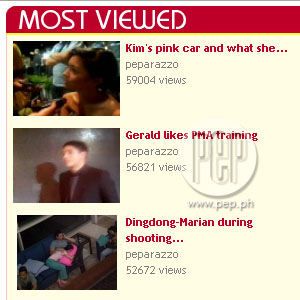 ---
After almost two months of being the Most Viewed item on PEParazzi(www.pep.ph/peparazzi ), the behind-the-scene photo and story Dingdong-Marian during shooting break (clickhere to see item ) settles to the third most viewed item position. The PEParazziShooter entry is about a blogger's description of how sweet Dingdong Dantes andMarian Rivera were during a shooting break of their movie One True Love.
Takingits place is the PEParazzi Shooter video Kim'spink car and what she hates most (click here ). Here, the Tayong Dalawa star was interviewedand revealed how she got her pink car from "ka-M.U." Gerald Anderson, whatanimal she hates most, and more about her relationship with Gerald.
Justnext to her is second most viewed item Geraldlikes PMA training (click here ). Kim's "special friend" said that although hewas a bit intimidated by the cadets of the Philippine Military Academy (PMA),he really enjoyed training with the future military men.
Totallyexiting the Most Viewed preview window is the Funarazzi entry Celebrity Body Transformations, (clickhere ) with Shooter video Kris Aquino,naging bastos nga ba? (click here ) pushing it out of the preview window. The fourth most viewed item is a clipfrom a The Buzz episode where Krissuddenly cuts co-host Boy Abunda's recollection of his experience while working withthe late Marky Cielo.
Hereare the rest of the most viewed items last week and the hot picks this week inPEParazzi. Click on the titles to view their page:
1. COMINGSOON: "Tayong Dalawa" sa January 19 nah!
Postedby tamburiki last January 16, this serves as a followup to the earlier Tayong Dalawa-related uploaded videos.Aside from the announcement and news about the show, the PEP Scoop entry also has excerptsfrom the press conference for the show that was held in Teatrino, Greenhills,San Juan City, on January 7.
2. Baronwants mo' money than awards
Uploadedon January 8, controversial actor Baron Geisler talks about his goal to be asrich as Tayong Dalawa co-star GeraldAnderson. He said he's more interested now in earning more money than winning awards.
ADVERTISEMENT - CONTINUE READING BELOW
3. Takipsilim(Twilight Pinoy version)
Passedon from email to email, and now on the pages of PEParazzi, are digitallyaltered versions of the Twilightmovie poster. The altered poster has Rayver Cruz and Shaina Magdayao replacingthe heads of the movie's real stars Robert Pattinson and Kristen Stewart. It also has another version with Janno Gibbs and Ai-Ai delas Alas as Pattinsonand Stewart.
ZorenLegaspi and Carmina Villaroel were asked to comment on Rustom Padilla's changeof name. Rustom is Carmina's ex-husband and now wants to be known as BeBeGandanghari. But both Zoren and Carmina misunderstood how BeBe's name should bepronounced and said "BB" instead.
5. Zoren:"Ever since naman kasal kami, wala lang naniniwala."
Whenasked if a wedding will happen this year, Zoren Legaspi said he andCarmina Villarroel, have been married for a long time now. Watch the video anddecide for yourself if Zoren is telling the truth or not about their"marriage."
6. A Very Beautiful Angel at Avon's Breakthrough Event
Angel Locsin fan tamburiki uploaded this video of the Love Me Again (Land Down Under) star. The video shows Angel playing model to well-known makeup artist Lala Flores.
Formore videos, photos and stories sent in and uploaded by pepsters, visit www.pep.ph/peparazzi.