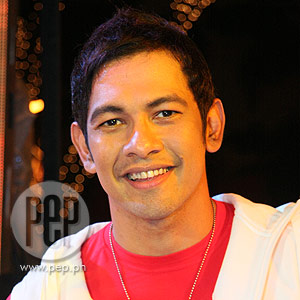 ---
Gary Valenciano was the guest today, February 15 at The Buzz to face Boy Abunda's Tough Ten questions. Although he admitted that he was unready for the interview, Gary remained as energetic and enthusiastic as ever. The first question on the Tough Ten was, "Ano ang isang pangarap sa iyong buhay ang hindi pa natutupad?"
"Isang napakalaking pangarap para sa akin, Boy, is to teach," said Gary. "To teach young people the art of recording and the art to entertain and make an impact to other people's lives. For me, 'yan talaga ang gusto kong gawin."
Content with Gary's answer, Boy moved on to the next question, which involved Gary's "rivalry" with friend Martin Nievera. He asked, "At the height of your rivalry versus Martin Nievera, what was the one thing you couldn't stand about Martin?"
"May mga sinabi siya noon na para sa kanya, e, it didn't really matter," answered Gary. "Kasi, parang binanggit niya lang iyon, e, and it didn't affect anybody. But there were things he said that affected me. Yung ayaw ko, e, yung hindi sa sinabi niya kundi yung character niya na, 'Wala naman yun, e, yung sinabi ko naman hindi maaapektuhan si Gary V.' But actually, it did. So, I felt na there was a little insensitivity at that time. But now it's different."
After hearing Gary's story and explanation, Boy smiled and said, "I understand." With that, they moved on to the third question. Boy asked, "Isang araw, biglang lalapit ang anak mong si Gab at sasabihin na, 'Dad, I want to get married.' Is the question answerable by a 'Yes' or 'No'? What will you do?"
ADVERTISEMENT - CONTINUE READING BELOW
"Sasabihin ko, 'Hindi'," Gary answered. "I know that he would want at that time. But kunyari it happens anytime soon, kahit sabihin ko naman hindi, gagawin at gagawin niya."
"But," added Gary, "hindi ibig sabihin na hindi ko siya susuportahan. Like my father, when I was very young and I went to him and said, 'Dad, I'm going to get married.' He said, 'Well, son, I'm going to support you. What can I do?' And the same thing, I will love my son regardless."
"Follow up question," Boy suddenly asked. "What if he says, 'Dad, I'm going to be a father?'"
Without hesitation, Gary answered, "I went through that. With Angelika [Pangilinan, his wife and manager] pregnant, sinabi ko sa kanya na, I was going to be a father... and I was in tears."
What did his father say?
"'I warned you,'" Gary related. "'But son, I will be here for you.'"
Will Gary do the same to his son Gab?
"Oh, yeah," Gary said. "You know what, I know naman the heart of my son. And marunong din magmahal si Gab. I'll support him all the way. I told him before na even though me and his mom have been together for 25 years, e, ganoon kadali, e, it's not easy. Sana he brings attention to that."
The fourth question was quite a sensitive one. When was the last time Gary cried?
"I always cry," admitted Gary. "Sometimes I don't cry for people to see. When I do a song like 'Take Me Out of the Dark', and 'Break Me,' I'm crying inside. Minsan may mga taong umiiyak na pero hindi ipinapakita sa ibang tao na pumapatak ang luha."
ADVERTISEMENT - CONTINUE READING BELOW
So when was the last time he cried with people around?
There was a long pause, but Gary answered, "Some time ago, but I can't recall exactly. I made a wrong decision."
Next question was, "If Martin would come up to Gary and ask for some advice, what advice would he give?"
"During the height of the Pops-Martin controversy, e, there was a time when humingi siya," Gary related. "I told him then, na 'You just have to come home.' Meaning, come home, go back to the One who has given you the gift. There are a lot of things that God wants to do. God's plans only good and not to harm you. That's forever going to be my advice for him. I hope that he can come to me and say, 'Bro, you were right.' If ever he came to me to seek advice about life, I would remind him about that."
That said, Boy moved on to the next question. He asked, "Gary, this is answerable by a 'Yes' or 'No'. Are you better than Martin Nievera?"
Gary asked and said, "Honestly? No. Martin does things I can probably learn pa. Iba ang pinagdaanan niya sa buhay sa pinagdaanan ko. So, ang expression niya whenever he sings his ballads, e, siya lang ang makakapag-express ng ganoon."
After hearing his explanation, Boy commented that he has read Ricky Lo's column and told Gary that he noticed one quote from Gary which was "I'm not a perfect human being; I'm not a perfect husband." So, what was the biggest mistake he has ever done to his wife?
ADVERTISEMENT - CONTINUE READING BELOW
After another long pause, a distant-looking Gary answered, "Dumating ang panahon na there was something in my mind na pumasok at imbes na tinabi ko ang ganoong pag-iisip, e, I retained it. It stayed in my mind for a long time and na-affect din ang character ko. Yung nakikita ng tao na nakangiti ako, e, pag-uwi ko parang iba akong tao. Hindi naman masamang tao, e. Pero with her I would be very vocal. Grabe ako magalit at parang inaano ko siya palagi. But we dealt with this and I came to her and said what was on my mind and my heart. So, that's why she's the wife that she is to me because she forgave me and we're together up to now."
Speaking of women, the next question for Gary was this, "Maliban sa asawa mo, sino ang pinakamagadang babae sa showbiz para sa iyo?"
"Can it be two?" asked Gary. When Boy nodded, he said, "I'd have to say Dawn Zulueta. Respetado ko talaga ang taong 'yan. I won't be afraid to come to her and say that she looks good...with no malice involved."
So who was the other one?
"She's a friend of the girlfriend of Paolo," said Gary, "she's Iya Villania. A wonderful person."
The next question, according to Boy, was a question he himself was the first to ask to Gary. "Naging girlfriend mo ba si Pops Fernandez?"
"Wala bang commercial break?" asked Gary. After seeing the smile on Boy, he shook his head and said, "No, no, no, no!"
ADVERTISEMENT - CONTINUE READING BELOW
So, did he court Pops?
"Uhm, can I explain something?" Gary asked. Upon hearing this, Boy laughed so hard. "Nag-guest ako sa concert ni Martin and Pops. And every guy, including myself, e, talagang pag nakita si Pops, e, 'Wow!' 'Tapos, nagkataon na naging malapit kami Martin, e, we would hang out in Pop's house."
Was he smitten with Pop's beauty?
"This was before," smiled Gary. "I was a young man then, and who wasn't mesmerized with the beauty of Pops?"
The number one question for Gary was, "If you would ask for forgiveness sa isang tao, e, sino ito at ano ang iyong sasabihin?"
"I'd say sorry to one person, and that would be my wife," a serious looking Gary said. "Kilala ko ang sarili ko bilang isang kaibigan, isang husband, son, and isang father. Alam ko na marami pa akong gagawin para maging ideal na husband. Sasabihin ko siguro sa kanya, e, 'Angeli, I'm truly sorry for those times when I turned my back on you and said words that I shouldn't have said and the way I said it. I'm sorry if I easily get out of focus. I'm sorry at how I sometimes forget how precious you are.'"
At this point, Gary was in near tears as he added, "If I could live my life again and correct certain things I've done na hindi ko dapat ginawa, e, it would be to live my life with her but with the right mind and the right heart.
ADVERTISEMENT - CONTINUE READING BELOW
"She is the reason why I'm here now and talking with you. She is the reason why... she believed. I'm just thankful that God has given me someone like her and I don't need to look because she's there and she has guided me and loved me. And you know, on my deathbed, maybe forty or fifty years from now and I'm looking at my side, and if she's no longer with me, her picture would still be there with me. She's the perfect example of someone who would love so unconditionally. Regardless of ano pa sasabihin ng tao, I'm here because of her."