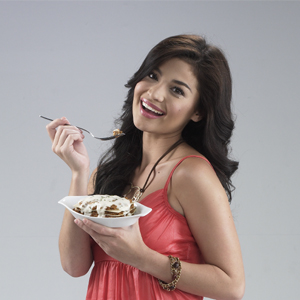 ---
The crowded venue was suddenly supercharged with more energy when Anne Curtis arrived.
She was all smiles, very charming, and was her usual kikay self when she greeted the media and press people, who flocked the Greenwich branch in Rufino Towers, Makati City, this afternoon, February 16.
When the short program started, she spoke with much excitement and giggling about her latest endorsement. (watch video)
"Thank you, thank you...I just feel very honored and blessed that they considered me," the Kapamilya actress said.
According to Renel Cecilio, brand manager for pasta Renel Cecilio, Anne was the perfect choice for Greenwich pasta, which promotes "fun and friendship." She added, "Si Anne, di ba parang on and off- screen, very fun...She enjoys her life with friends, sobrang dynamic niya, she has zest for life."
The TV commercial, which was shown during the mini-event, was "very Anne," said Tim Yap, who was recently chosen as the brand's store ambassador. Anne's most catchy phrase, "the best ever," would most likely become a popular expression among magbabarkadas.
The actress-host-commercial model said about her food shot, which shows her savoring a cheese-filled bite of lasagna: "I didn't want it to look like fake, so sabi ko bahala na, I'll just do it. Okay naman...It's hard in the beginning, but we are able to get it in eight or nine takes."
And Renell described the experience of working with Anne as "super fun." "You wouldn't know that she's a big star, as in sobrang down to earth niya, as in sobrang funny in the set. She livened up the set, sobrang bubbly niya, ganun..." she added.
ADVERTISEMENT - CONTINUE READING BELOW
The launch ended with the singing of "Happy Birthday To You" for Anne, who will turn 24 tomorrow.
BIRTHDAY PLANS AND WISHES. The Viva Talent, who has been in the business for about 12 years, has a specific birthday wish: "I'm actually planning a month-long vacation sa Europe. I plan to go to Paris, Spain, and Egypt."
Last year, the adventurous lady went to Europe by herself, but this time she plans to travel with her barkada. Again, she's eyeing the month of May.
Her recent out-of-the-country trip was last week. She spent Valentine's Day with her friends—there were nine of them, mostly single ladies—in Hong Kong.
After that trip, a birthday party is currently not part of the plan. "Pinag-iisipan ko nga kasi nag-Hongkong na 'ko so parang added gastos," the Dyosaof Philippine television said.
The lady knows where to put her income. Anne told the press people, "I bought my mom a house in Australia, and then I bought my house, but here in the Philippines. And then after that, dapat saving na talaga...I'm gonna start saving for the rainy day kung sakali man, ano mang mangyari sa life ko."
She seems to have everything, so the best birthday gift to her is not "material things."
Anne explained, "I adore materials things pero 'pag gift, I like it kasi 'pag may thought put in to it. Like for Christmas, one of my best friends gave me like a photo album full of [our] pictures. She put in order na, in a way, you'll see our friends...I love things like that."
ADVERTISEMENT - CONTINUE READING BELOW
But that doesn't mean expensive gifts are not welcome. She quipped, "If I'm going to think big, I really want a Kompressor, Mercedez Benz...The smaller one na it would be easier for me to drive, so siguro yun...That's thinking big, walang masama to think about it."
A portion of her earnings, by the way, goes to cars. "I appreciate them," she admitted.
LOVELESS BIRTHDAY. She has zero lovelife, but she quit fretting about it.
"I'm just enjoying being single. In the beginning, I think I had a hard time... being happy, about not having someone, I had a hard time... But now I'm enjoying it, and all of my other friends are also single..." she told PEP.
How did she cope during her split with Sam Milby?
She replied, "Don't force yourself to try, like, you don't force na parang wala na. I-feel mo muna because [that's] the adventure point of your life. You make the choice na, you know, [since] I was enjoying it, be happy, [then] tama na."
That was the only moment throughout the whole interview when she sounded earnestly serious.
For now, her focus is on work, "I have been very busy, and any free time that I do have, I wanna catch up kung ano na nangyari sa friends ko. So, its keeping me busy, so much fun...If it [love] comes, it will come, I'm not saying na parang ayoko na, no...I'm open naman."
That said, she was all smiles and giggles again.
ADVERTISEMENT - CONTINUE READING BELOW
The lady surely knows how to have fun and enjoy the best life ever!