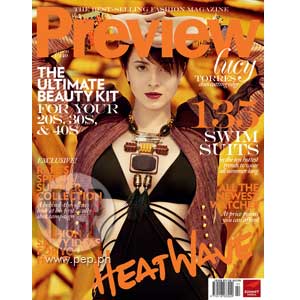 ---
When Lucy Torres-Gomez saw the jet-black hairpiece that she would be wearing for the cover shoot of Preview's March issue, she couldn't help but squeal to the magazine's fashion editor Liz Uy, "I'm scared of the hair!"
For someone whose long, straight hair won her the lead role in the Lux commercial that would change her life, the short and edgy cut of the hairpiece would mean showing the public a side of Lucy that they had never seen before. Even when she finally dons the hairpiece, Lucy is caught wondering to herself, "Bakit kaya nila gusto ng short?"
Short hair wasn't the only first that Preview brought to this cover shoot with Lucy, who is no stranger to Preview after being awarded as one of Preview's Best-Dressed ladies for 2006. Since the March issue is a Summer Special, Lucy wears a swimsuit for the very first time.
"I've never posed in a swimsuit before," she said as she looked at the Louis Vuitton swimwear collection for her pictorial. "[I mean], I've been photographed lots of times in a swimsuit, but those were stolen shots at the beach."
ADVERTISEMENT - CONTINUE READING BELOW
And for Lucy, photos taken during beach outings are very different from actually posing in front of a photographer for a spread that will appear in a glossy magazine available nationwide.
Her hesitation over the short hair and the swimsuits disappeared once the camera started to roll. Lucy loosened up enough to be caught shimmying to the tunes of Rihanna and Britney Spears as the music blared and the shutter clicked. It reminded everyone how this must come naturally to someone who is seen dancing on national television every week in TV5's Shall We Dance? One would think that by now Lucy would be used to dancing in public.
But Lucy shared, "The first time I had to do a dance number in front of a huge crowd, I remember thinking, 'Oh my God, why am I doing this to myself?' Nasusuka na ako sa kaba."
Despite the years that have passed since that first dance number, Lucy still feels bouts of nausea before every performance and is unable to do one thing—dance in front of husband Richard Gomez.
ADVERTISEMENT - CONTINUE READING BELOW
Pressed for details, Lucy told Preview, "When I video myself to see what I'm doing wrong or right, it's Juliana who holds the video cam. And Richard will say, 'Ako na, honey, I'll take the video.' And I'll be like, 'No, I can't dance if you're watching!' I get shy."
Read more about Lucy who wears the latest swimwear collection of Louis Vuitton in the March issue of Preview, available in newsstands, bookstores, and supermarkets nationwide. For a daily dose of fashion, log on to Preview's online affiliate, StyleBible.ph.