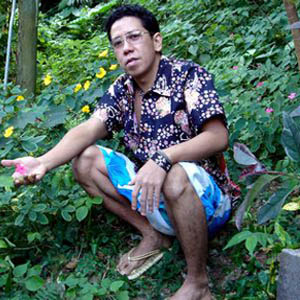 ---
Boy, the new film of Aureaus Solito, the famed director of the critically-acclaimed indie films Ang Pagdadalaga ni Maximo Oliveros and Pisay, was banned by the censors of Singapore.
This was relayed by the filmmaker to PEP (Philippine Entertainment Portal) thru his Facebook account. In his notes, Solito said the Singapore censors would not allow his new film to be screened. He felt it was almost like a joke since this has happened to him before. He learned about the banning of Boy through email.
Solito said Boy is his ode to a phenomenon in Filipino movies, the "macho dancer" genre. In the film, an unnamed boy is smitten by a macho dancer—or male stripper—and decides to bring him home for the New Year.
"It's like a cross between a coming-of-age film and an erotic one and it was supposed to have its premiere in competition at the Singapore International film Festival, which opens on April 14. A week ago, I was so happy to see the Festival had put the film on their website. And now suddenly it has been banned," said the filmmaker.
ADVERTISEMENT - CONTINUE READING BELOW
He continued, "According to Zhang Wenjie, festival director of the SIFF, the censors will usually issue a one-line reason for disallowing a film. (Last year, they wrote of one title: "the film promotes terrorism".) I am still waiting for their statement on my film, but I predict it will have something to do with its gay erotic nature. Zhang Wenjie proposed that it remain in competition, just the jury to watch it. I replied that I make my films for my audience, not for a jury, and withdrew it from the Festival."
Three years ago, a similar thing happened to him in the Philippines. Solito's second feature film, Tuli (Circumcision), which was in competition at the CineManila International Film Festival, got an X-rating from the Movie and Television Review and Classification Board (MTRCB), meaning it could not be screened publicly. Without his permission, his producers cut the film to allow it to be shown.
ADVERTISEMENT - CONTINUE READING BELOW
"As I told the [daily broadsheet] at the time, it's the worst thing that can happen to a filmmaker. It's like your baby being disemboweled. I insisted the jury watch Tuli uncut (no pun intended) and, after a long fight, I got my way. The film won the awards for Best Film and Best Director. I felt so vindicated after that," he said.

"Back then, being censored really hurt. But now, the second time around and in another country, I felt more angry than hurt. I was looking forward to seeing my film with an audience. I guess it won't happen."

After his film Boy was banned by the censors in Singapore, Solito decided not to go through the MTRCB here at home. Boy will be screened for a public audience in the censorship-free UP Film Institute and the Cultural Center of the Philippines.

"I have had enough of being censored," ended Solito.
ADVERTISEMENT - CONTINUE READING BELOW