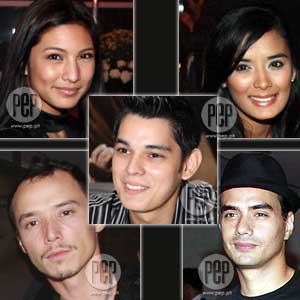 ---
This is the final part of the Philippine Entertainment Portal's investigation on the events that transpired on March 28 and 29 right outside the Oceana restaurant. The particular area referred to is the restaurant's parking lot.
Was there an incident? What kind? Was there an altercation? Was there gun toting? Meaning, was a gun carried around? Who was involved?
This is the result of our investigation.
TWO WITNESSES. Once again, we have two witnesses.
Witness No. 1 makes his appearance anew. He is the same bystander we interviewed about events inside the restaurant [click here to read Part II of this article]. Once again, he has refused to be named. He can narrate what he saw, he said, but he cannot get involved. He said his family's life rested in his hands, and he did not want to go up against big people.
We have a new witness, whom we shall call Witness No. 3. At the time of the March 30 PEP press conference, I did not know this witness would speak up. Since then, he has.
ADVERTISEMENT - CONTINUE READING BELOW
This is a fellow who was in the parking lot a few minutes before 2 a.m., when Richard Gutierrez's group was poised to leave the party. He had a legitimate reason to be in Oceana that evening. But like Witness No. 1, he has chosen not to be identified. He began communicating with PEP through text messaging, but eventually met with our managing editor Karen Pagsolingan and a private investigator that PEP had hired.
Witness No. 3 spoke to PEP in the presence of his superior.
Witness No. 1 and Witness No. 3 were never interviewed together. Eventually, the latter turned out to have observed more, thus providing more details. Their stories diverged at one point, but their narrations came together in the following:
1. They both saw five celebrities walking out of the restaurant via its red-carpet area. These included Richard Gutierrez, Epy Quizon, Michelle Madrigal, Bubbles Paraiso, and TJ Trinidad. Witness No. 1 is probably a fan at heart; he took a video shot of the group on his cell phone.
ADVERTISEMENT - CONTINUE READING BELOW
2. The celebrities headed towards the parking lot, and stayed there for a couple of minutes chatting. The two witnesses—who didn't know each other but were both attracted by the showbiz stars—were glued to the group.
3. Drivers, security guards, and staff members of the catering service were also in the parking lot at the time the five celebrities were about to leave.
4. There was no commotion in the parking lot.
5. However, there was gun toting; in other words, a gun was carried. And in that public place, the gun was seen.
WITNESS NO. 1. Witness No. 1 narrated his account to PEP five times, on five different occasions, within the period of March 30 to April 14.
The reason we kept returning to him is that we wanted to see how consistent he would be with his facts (he was); how and where and when he would embellish these (he did not); and what kind of a person he was up close (he was a simple man).
ADVERTISEMENT - CONTINUE READING BELOW
On those five occasions, we had three different persons go talk to him, again to see if and how he would change details in his story, depending on how and who was doing the probing (he did not).
Initially, he was eager to tell his story. But after the Gutierrezes came out full blast in the media, we noted a reluctance that hadn't been there before. In the end, however, when he retold his story, he did so with consistency all five times. Here it is:
"Mga 1:50, naunang lumabas si Epy. Sumunod si TJ. 'Tapos may binanggit si Richard na Mark ang pangalan, na tumapik, 'tapos "O, Mark!" parang gano'n...Kasama niya si Bubbles at saka si Madrigal..."
"Nung paglabas po nila, Ma'am, noong nakarating na sila dito [red carpet area near the fountain], sumunod po ako...
"Ito pong kotse ni Richard, nilabas na po n'ya 'yan, bale gumanito na po, parang naka-point na siya rito [exit of the parking lot]. Nakaandar siya [the engine]."
ADVERTISEMENT - CONTINUE READING BELOW
Witness No. 1 said he was two to three meters away from the group. He said Epy, Michelle, Richard, and Bubbles were beside the car of the Zorro lead star, while TJ was a few feet away from the four. They were happy and seemed to be inebriated.
Resuming his narrative, he said, "'Tapos po, Ma'am, nung ganyan na po ang puwesto nila, pumunta po si Epy. Eto po sasakyan niya [Richard] na gray na Toyota Hilux. Pumunta po doon sa loob, na may kinuha sa may likod ng [upuan ng] driver."
Then, according to Witness No. 1, Epy took a "belt bag na black" from Richard's car, then "binuksan niya yung belt bag." The belt bag contained a "silver 9mm" gun. He sounded very sure about the kind of gun. We asked why. His reply: "Yung kapatid po ng Papa ko, may ganyan din pong klase ng baril. 'Tsaka mahilig din po ako sa baril."
ADVERTISEMENT - CONTINUE READING BELOW
Continuing his story, he said, "Kinasa [ni Epy] nang pagano'n, 'tapos parang may binanggit siyang hindi namin maintindihan. Parang lasing na po kasi, e. Parang nagmumura siya, parang gano'n. Pag-gano'n [pagkasa] niya po, 'tapos parang yun, nagmura na. Nilagay niya po dito [baywang]. 'Tapos yung puwesto nila, parang gusto nilang pumunta sa loob ulit, kasi gumagalaw silang apat, e. Actually, si TJ, parang 'ando'n sa likod, may kausap sa telepono.
"'Tapos si TJ po tumakbo na, nagyaya na. 'Let's go! Let's go! Richard, I'm the one who will drive.'
"Pagkasabi po ni TJ, inutusan ni Michelle Madrigal yung driver niya na sumunod na lang. 'Manong, sunod na lang kayo. Ingatan mo yung kotse ko ha,' sabi niya. Nag-convoy na po—ang driver ni Michelle, ang driver ni Bubbles, 'tapos si Epy na po yung sumunod, 'tapos sila Richard na po. Sina Michelle at Bubbles po, sumakay sa kotse ni Richard. Paalis sila mga 2:05 to 2:08."
ADVERTISEMENT - CONTINUE READING BELOW
COMMENT. Witness No. 1 said that he was two to three meters away, and from his vantage point, looked to have a better view of Epy Quizon than of Richard Gutierrez. He said that what he saw was a group of friends, some drunker than others, getting out of the party place at close to 2 a.m., presumably to leave. They were bubbly and happy.
He said one of them, Epy, went to Richard's car, and took a gun from a belt bag from behind the driver's seat. Richard was beside his car. Also according to him, Epy cocked the gun, tucked it in his waistband, and was making noise. Watching him, Richard, Bubbles and Michelle were grinning, as though amused. The witness did not see Richard touch the gun.
The witness said he thought the group was about to head back to the restaurant, although he did not hear anyone in the group say that that was their intent. It was just his reading of the scene before him. Then, again according to the witness, TJ Trinidad called the group back: "Let's go! Let's go! Richard, I'm the one who will drive!" The witness saw them speed away after that. The witness never saw the "silver 9mm" gun again.
ADVERTISEMENT - CONTINUE READING BELOW
WITNESS NO. 3. On April 9, Witness No. 3 sent the gist of his story via a text message to Karen Pagsolingan. Three days later, he granted PEP an interview. He chose to be anonymous. He was accompanied by his superior.
Here is Witness No. 3's account of the gun-toting incident.
He said that at close to 2 a.m. of March 29, he was "five-to-eight meters" away from Richard and his celebrity friends. He was on a slightly higher mound than the ground where the cars were parked. He also said his view was not obstructed by any vehicle.
"Nakita ko po sila, yung lima. Nakita ko na lang po yung may pangalan po na Oceana sa kanto na 'yan. [The witness is referring to the restaurant signage.] Yung si Richard Gutierrez, Epy Quizon, Michelle Madrigal, 'tsaka si TJ Trinidad. 'Tapos yung isang babae na nakasama nila, hindi ko kilala. [This must be Bubbles Paraiso.]
ADVERTISEMENT - CONTINUE READING BELOW
"Nakita ko pumunta sa kanilang sasakyan. Pagdating sa kanilang sasakyan, nakapaharap na po palabas [ang sasakyan, sa] exit. Bale yun, nung lumabas, si Richard po yung nag-drive.
"Bale hindi pa umaalis [yung] sasakyan, binuksan [ni Richard] yung pinto, 'tapos, pumasok yung kalahati naman ng katawan sa loob. 'Tapos, paglabas po, may nakita po akong ano, may baril po siya na hawak. Silver po. Makintab po."
COMMENT. Witness No. 3 said that he saw Richard hold the gun. He said it was also Richard who took it out of the belt bag from inside his own car.
This was where the accounts of Witness No. 3 and Witness No. 1 diverged. Witness No. 1 said he never saw Richard hold the gun. The one he saw doing that was Epy.
Possibly because of their vantage points, they had different reports. As they went on with their story, their account merged again.
Cocking the Gun. Witness No. 3, continuing his story about the gun, said this happened next: "Hiniram ni Epy Quizon, 'tapos trinay. Kinasa niya isang beses, ganu'n...'Tapos narinig ko 'pak.' Isang kasa lang. Binalik na ulit sa loob ng [sasakyan], kay Richard. Pagkatapos, sinara ulit yung sasakyan, kuwentuhan muna sila ng konti sa labas."
ADVERTISEMENT - CONTINUE READING BELOW
COMMENT. Witness No. 3 did not see Epy put the gun in his waistband. Witness No. 1 did not see, or did not notice, anyone putting the gun back in its belt bag.
According to Witness No. 3, the expressions on the faces of the five celebrities, as they stood around with the gun, was "normal." In his words, "Bale nung nakita ko, wala naman pong pagyayabang. Ano lang, pinakita lang..."
RICHARD'S GUN. Detailing the moment when Richard took the gun from his car, Witness No. 3 said: "Pinakita niya [Richard] kay Epy. Narinig ko may nagsalita na babae, sabi, 'Kanino ba 'yan?' Narinig ko. Sabi [ng isa pang babae], 'Kay Richard.' Ganu'n sabi..."
Even Epy's expression was "normal lang," he said. "Basta wala naman siyang expression na parang galit. Wala naman. Normal naman yung ano, yung mood niya."
The group stayed by the parking lot for another "10 minutes." "Nagkumpulan ulit silang lima," he related. "'Nagpaalamanan. 'Tapos magkakasunod na rin sila na lumabas. Si Richard yung driver, 'tapos sumakay na rin lahat yung ano, yung lima."
ADVERTISEMENT - CONTINUE READING BELOW
He said all five stars went inside Richard's car. (Witness No. 1 said only four did; Epy took his own car.) He admitted though that, at the point where the car left the parking lot, he only got a view of the driver's side. "Si Richard yung driver. Yung dito sa side na ito, isa lang. Si Michelle po. Yung dun sa kabila, hindi ko na nakita kung sino yung sumakay."
EPY RESPONDS. On April 27, at 11:20 p.m., I spoke to Epy Quizon over the phone. I told him about the gun that two witnesses said he toted in the parking lot, and then cocked once. I also told him that one witness said he tucked the gun in his waistband.
Epy gave it straight. He said there was a gun, and he held it because he was curious. It belonged to Richard. But, he says very definitely, there was no incident of any kind in the parking lot. In his words:
ADVERTISEMENT - CONTINUE READING BELOW
"Yes, tiningnan ko yung baril. I held it. Pero I'm sure nakatutok sa ibaba. I wasn't swinging it around or pointing it at anybody or anything like that. Pinakita lang sa akin ng bodyguard ni Richard. It wasn't loaded. May magazine, pero hindi nakapasok.
"Parang 45 siya, I'm not sure, kasi I don't know much talaga about guns. It looked grayish, like charcoal. I'm not even sure because the parking [lot] light cast this parang ibang color.
"Wala, walang belt bag. It was a hard case, yung parang attaché case? It was on the seat of the car. Inaayos siya kasi may mga sasakay nga na mga babae. Itinatabi. Basta the gun was lifted from the car, we looked at it, then we put it back. Parang nga we didn't go far from the door of the car. Si Richard, I don't remember him holding the gun.
"I don't remember exactly how I handled the gun. But definitely it was not to intimidate anyone. I was just curious and happy. When I woke up, I couldn't remember much. Parang pictures lang sa ulo ko. Pero I'm not the kind to cock a gun.
ADVERTISEMENT - CONTINUE READING BELOW
"I cocked the gun daw? I don't think I did. No, I did not. I don't even remember hearing the sound of that. And yung tucking it in? I don't naman have a holster! And I don't think I'd put it in my waist or something. Sobra naman yung imagination nung nakakita! [Laughs.] Sino ba yon? Gabi na, meron bang tao sa parking lot? Parang wala akong nakita, parang kami lang. May tao pala?
"I had only three bottles of beer. I could not drink because I had a tummy ache. It was curiosity. I don't really know much about guns. Hinawakan ko lang. We were all happy lang."
COMMENT. A check with the Philippine National Police, Civil Security Group, Firearms and Explosives Division, showed that, indeed, Epy Quizon has no gun registered under his name. Richard Rama Gutierrez has three: a MPSTL 9MM INGRM, a PISTL 40 STI, and a PISTL 4O GLCK M23.
ADVERTISEMENT - CONTINUE READING BELOW
According to Witness No. 1, what he saw being taken from behind the seat of Richard's car was a "silver 9MM." At the time the witness mentioned the type of gun, none of us had any idea what an inquiry with the PNP's Firearms and Explosives Division would yield.
Richard has Permits to Carry (PTC) these weapons.
But while the license of Richard's 40 STI is valid until January 21, 2010, and the 40 GLOCK M23 license valid until January 21, 2011, the 9MM is a different story. Its license expired on January 21, 2009 and, if the description of Witness No. 1 of the kind of gun he saw is accurate, then at the time the gun was spotted in the parking lot of Oceana, on March 29, it had not been renewed.
RICHARD'S STATEMENT. When Richard Gutierrez filed a libel suit against PEP on April 13, he said that he was doing so because I did not say that PEP made a mistake with a story that was invented and fabricated. Meaning, something we conjured from nothing.
ADVERTISEMENT - CONTINUE READING BELOW
"Unang-una po, gusto ko pong klaruhin na nagkaroon kami ng agreement ng PEP, na binigyan namin sila ng chance para sabihin kung ano yung totoo. Si Ms. Jo-Ann Maglipon po ay nag-apologize for the wrong reason.
"She apologized na hindi niya nakuha ang side namin. Hindi niya sinabi na nagkamali sila at imbento yung mga nakasulat sa PEP at fabricated story at false journalism ang nangyari. So abangan na lang po natin ang mga susunod na hakbang sa pagbabalik ko."
This is what I want to clarify to the PEP readers for now: We do not invent stories. Like any media platform, we pick up small details here and there. That is the smoke. Then we check to find out if, behind that smoke, there is fire, and what kind of fire: a real conflagration or just a simple bonfire?
The presence of a gun is the smoke. We did not invent that. That did not come from our imagination. But whether there is a story behind it or not, we did not yet know.
ADVERTISEMENT - CONTINUE READING BELOW
I have already apologized profusely for uploading an article that had not been researched to its fullest. I still apologize for that.
But Richard's insistence that I say right away that nothing happened (with the threat of suing me if I didn't) about something I had yet to investigate properly (lest I be sued) was not something I could accommodate.
Precisely because, at the time, we were still investigating all the facts.
Richard's statement to the press on April 13 said: "First time ko na magsampa ng kaso against anyone. Gusto ko lang sabihin na matagal kong inalagaan, pinaghirapan ang pangalan ko. Yung reputasyon ng pamilya namin, inaalagaan namin. I work hard for my job, para sa mga fans. Hindi ko basta-basta papayagan na siraan at tapak-tapakan nang ganoon. Pinapalabas nila na isa akong criminal. Hindi ako papayag nang ganoon."
I dare ask, when did I ever hurt Richard or step on him—or in any way violate my profession by deliberately ruining his name? He will not be able to name a single time, if he is honest.
ADVERTISEMENT - CONTINUE READING BELOW
Richard has been in the pages of YES! Magazine—of which I am also editor-in-chief—for that publication's entire life span, which is close to 10 years. If memory serves, one of his first, if not his first, magazine pictorials was with YES!, when he was not yet a name. It was arranged by Douglas Quijano and done in the Gutierrez's White Plains home. And in every coverage after that, through these 10 years, Richard has received star treatment: his every appearance, product launch, movie, teleserye, fashion choices, and romance have been carried by the magazine to his fans.
Lest I be misinterpreted, I do not mention any of this to count what the magazine—which is the online affiliate of PEP—has done for Richard Gutierrez. I say this simply to count how many times in 10 years the magazine has stepped on him.
NOT ONCE.
PEP is no different. This website runs on the same editorial principles as the magazine.
ADVERTISEMENT - CONTINUE READING BELOW
If one were to count how many articles PEP has run on Richard in its two years, that will come up to 387 articles.
He is unhappy with one. One we apologized for and pulled out right away.
Or maybe he is unhappy with two. Two out of 387. Is this really "false journalism" prompting a court action?
I already said I didn't know if there was anything more to the incident. I had yet to check. The premature upload—to repeat: for which I apologized publicly—aborted the research. These things take time. Anyone with some imagination would have considered how the process can be tedious: the bureaucratic red tape, the search for documents, the cross-checking of licenses and their validity, the interviews with party guests and other witnesses. I simply needed these four weeks to complete the task.
And in the end, before any upload would have happened, PEP would definitely have published Richard's side, as it does now. We could have had a proper interview and gathered more of his thoughts on this, but his actions have now made it nearly impossible to talk.
ADVERTISEMENT - CONTINUE READING BELOW
Once more, we make it clear that we never, at any time in the original article, said that Richard, or anybody, pointed a gun at anybody. We know that to be a criminal act. All the article ever said was that there may have been "a gun-toting incident." In other words, a gun may have been carried by someone at the party.
The words "tutukan ng baril" came from Jun Lalin, whom we know is from the Gutierrez camp. That was his interpretation of "gun toting," which mistake he repeated over and over for others to pick up and further propagate. And yet it is an interpretation that no legitimate dictionary, in print or on the web, will support.
We don't mind criticism of our work. We don't mind being reminded of our duties. When we do falter, we will welcome this. Take director Mark Reyes, in his Startalk interview of April 4:
ADVERTISEMENT - CONTINUE READING BELOW
"People of PEP had my number. They could have easily coursed it, coursed things through Angel Javier [head of GMA-7's corporate communication unit]. Maybe, I am not blaming PEP management. Maybe, it is a slip. It is a mistake. It's one bad apple. Because I have respected PEP since day one. Since they opened I was so... saludo ako sa kanila sa tapang nila. So hindi ko inaano, hindi ko bini-blame ang PEP dito. Ang tinatanong ko is pakihanap lang yung gumagawa ng intriga diyan. Kayo ang masisira."
We appreciate that. And, yes, he is right. We should have interviewed as many, if not all, the people mentioned in the article. We should have checked all our data. We failed to. We uploaded before that could happen. I am still apologizing for that mistake to this day.
And now here is the result of our investigation. This is the article that should have come out in PEP.
ADVERTISEMENT - CONTINUE READING BELOW