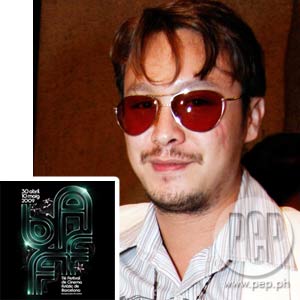 ---
Francis Xavier Pasion's Jay took home the D-Cinema Award during the Barcelona Asian Film Festival, which took place from April 30 to May 10. This mockumentary about the media was hailed as the best film shot in digital format during the awarding ceremony held in Barcelona, Spain.


According to the official website of the 11th Festival de Cine Asiatico de Barcelona, the BAFF 2009 jury of the D-Cinema section decided to grant the award to Jay "for developing an original and sharp critic to the media which entertains and makes you think, going beyond its political and format boundaries."


The D-Cinema award is given to the most innovative and experimental Asian filmshot in digital format. In the film, a gay schoolteacher named Jay is murdered and suddenly a reality-TV producer also named Jay is filming the teacher's grieving family. Baron Geisler plays the manipulative producer while Coco Martin is cast as the former boyfriend of the murdered teacher.


The BAFF 2009 D-Cinema jury was composed of Sílvia Ferran, co-director of FEC European Short Film Festival; Dávid López, director of Séptimo Vicio online film magazine and of film festivals Retroback and Young Filmmakers from Granada, and Jordi Minguell, journalist and film critic of elpais.com and its blog "Alta Definición."


Directed by Francis Xavier Pasion, Jay was the Best Film in the 2008 Cinemalaya Independent Film Festival.


Next month, Jay will be screened at the Sydney International Film Festival.

Other Filipino films, namely Adela (Adolfo Alix, Jr.), Brutus (Tara Illenberger), Dose (Senedy Que), Kurap (Ronald Bertubin), Now Showing (Raya Martin), and Serbis (Brillante Mendoza) competed for the festival's Golden Durian Award. It comes with a cash prize of 6,000 Euros but the prize went to the South Korean film Breathless with Special Mention to Malaysia's Sell Out and to Thailand's Agrarian Utopia.
ADVERTISEMENT - CONTINUE READING BELOW
The 2009 BAFF also had a special Philippine Cult Film exhibition showcasing the best in surrealism during the '80s. This section paid tribute to Joey Gosiengfiao by screening his films Katorse and Temptation Island (both starring Dina Bonnevie).