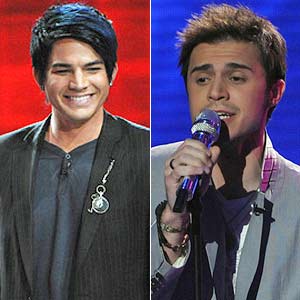 ---
Then there were two.
America has voted Adam Lambert and Kris Allen to battle it out in the grand finale of American Idol Season 8 next week. This scenario transpired after the elimination of Danny Gokey earlier today, May 14 (May 13, U.S. time).
An Adam-Kris showdown is probably one of the unique finales in the history of American Idol. Adam, 29, is known for his unbelievable vocals and can hit the highest note without much effort. Kris, 23, on the other hand, may not be have as powerful a voice as Adam's, but he more than makes up for it by his "artistic reinterpretations" of the songs.
Adam is touted to be the next big thing in rock, while Kris has a great future in pop.
Throughout the duration of this season's American Idol, both Adam and Kris have been on the bottom group only once; on the April 29 episode of the show when Matt Giraud was eliminated. Danny was the only contestant who never made a trip to the bottom 3 until his elimination.
Adam and Kris will have a final face-off next week to determine who is going to be the next American Idol. The two remaining finalists will sing three songs each.

Incidentally, last year's winner David Cook and runner-up David Archuleta are currently in the Philippines for their back-to-back concert on May 16 at SM Mall of Asia Concert Grounds.