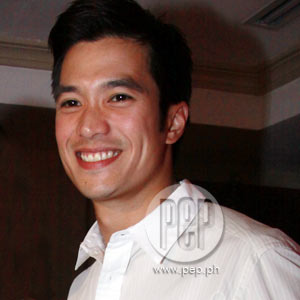 ---
Despite his active involvement in the K.I.D.S. (Kabataang Inyong Dapat Suportahan) Foundation, actor Diether Ocampo remains resolute in his desire to stay clear of politics.
K.I.D.S. Foundation is a non-government organization that was founded to support underprivileged children around the country through various programs made possible by donations and sponsorships.
Diether's enthusiasm and passion when it comes to public service didn't go unnoticed. Politicians and political parties started sending out feelers to the 32-year-old actor and lured him to run for public office.
"I don't need any position to help other people," said Diether in a recent interview with Candice Lim of YES!. "Parang I'm more comfortable doing what I'm good at doing, which is acting. Politics is not my cup of tea. I just got involved with a lot of things. Those things that involved politics because sa K.I.D.S. Foundation kasi, whenever we implement projects in other local municipalities we have to deal with different politicians.
"Basically, I really don't see myself getting into politics coz parang it's too complicated for me and showbiz is complicated enough so I don't want to get any added things in my life to be more complicated pa."
The Only You leading man revealed that he was recently asked to run as Quezon City councilor, but he politely declined.
"I really appreciate people considering me to run but it's just not my cup of tea. I do hope that they understand... coz I can help naman in my own little way through K.I.D.S. Foundation, of course."
Diether—who recently went to the prestigious Harvard University in Cambridge, Massachusetts to attend a convention concerning possible future projects and programs for K.I.D.S.—was also asked in the past to run in Bacoor, Cavite as vice mayor.
ADVERTISEMENT - CONTINUE READING BELOW
ON THE SIDE. Aside from acting and engaging in cause-oriented activities, Diether is also involved in the publishing business.
Diether's latest venture, though, is based in the United States. "It's a fashion mag for kids," he proudly said.
The Kapamilya star talked about his role in the said business: "Sort of like part of the marketing, but I started out as an editor at large. But since I was over here [the Philippines], they just put me in charge of the marketing. Helping them to sell ads... coz the entire production is being done there, so it's quite hard for me to come over there."
Prior to the children's fashion magazine endeavor, Diether used to be involved in overseeing a men's magazine. A change in management, however, minimized the actor's role although Diether remains as an investor.
"[I'm] still part of the board of directors but [I'm] not as active as before. Coz before, I'm involved with almost everything: promotion to cover shoot to everything. But then, like nag-change ng management, so I think the ones who are running now wanted a new direction."