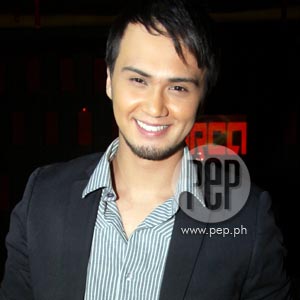 ---
This couple is making beautiful music together.
Singer-dancer Billy Crawford said he thinks his girlfriend Nikki Gil is the type of girl he could marry, but he wants to wait.
"I think a lot of guys can vouch for that. A lot of guys would say that Nikki is the perfect girl. She's the marrying type, you know. But that's too early to talk about, you know. She just graduated college. I can't really dwell on that. So you have to give her space to think about our future and work and you know. Because we're here also to inspire people din, e, so we're not rushing into things," explained Billy to PEP (Philippine Entertainment Portal) yesterday, June 10, at the launching of his new album, Groove.
But the youngest That's Entertainment alumnus said they regularly talk about marriage.
"You know I'm older than her, so of course, the conversation has been there. Of course, nothing is set, and I don't think it will be for a while," he said.
Singer and TV host Nikki, in an earlier interview in The Buzz, said she thinks Billy is the type of person she could spend her life with. But she added that marriage plans are not final yet.
It was in September last year that the two admitted they were dating. Both were co-hosting the second season of the ABS-CBN reality show Pinoy Dream Academy during that time.
Billy and Nikki are getting closer day after day, and their fans view them as the perfect couple. What are the qualities that the international star likes about Nikki?
"She's very spiritually inclined with the Lord, which I'm very proud to say that so am I, through her and her family and my family upbringing. Second, mapamilya siya, e. She really really cares for her family more than anything in this world, and so do I. So I think we have a lot in common. We share mutual things," Billy said.
ADVERTISEMENT - CONTINUE READING BELOW
How do they keep their relationship strong?
"You can never ever avoid the challenges being in showbiz and being a couple in showbiz. So you cannot put yourself in a situation where you can't get out. Not that we're playing it safer, anything like that. Maraming sisira, e, no matter what happens. They're gonna talk as much junk about me, about her.
"The most important thing is that I have a steady communication with her and I, with our family. This is showbiz, we have to face the fact na nandito kami. And that's why we wanna keep certain parts of our relationship private because of situations like that," explained Billy.
Having a strong relationship with God also helps.
"So you just have to have a growth period with that person and I think to have God in the center of our relationship I think it will make us last forever," he said.
GROOVE & KOKEY. Billy also said that ABS-CBN is offering them a soap opera where they could work together.
"We have [the sequel] of Kokey, kami ni Nikki. We'll be a part of it. It's a musical, it's different. It's gonna be different," Billy said.
The details of the show, previously a primetime soap opera for kids on ABS-CBN, are not final yet. It is lined up for this year.
Billy collaborated with Nikki in his new album Groove. The two sang a cover of the ballad "You've Got a Friend."
"Well I've collaborated with her way before this project but for one song to be on the album for the first time, of course, it's my pleasure and privilege to work with someone that you're with, definitely," he said.
Groove is Billy's fifth album. Released by MCA Universal in the Philippines, it contains 16 tracks, with the carrier single "Steal Away" currently climbing radio charts everywhere.
ADVERTISEMENT - CONTINUE READING BELOW