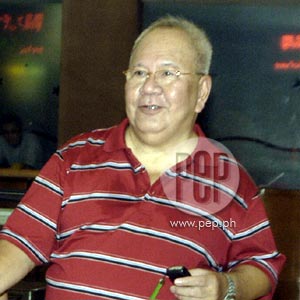 ---
Respected veteran talent manager Douglas Quijano's untimely passing last June 13 left the whole local showbiz in shock. There had been no warning or any other serious situation in which Tito Dougs—as he is fondly called by friends—could have called attention.
Film director and former Hi! editor-in-chief Ces Evangelista gave Showbiz Central a detailed account of that fateful day of June 13 at 10 a.m. in his rest house in Lucban, Quezon.
Ces recalled, "Dumating siya [Douglas] sa Lucban, Thursday [June 11], kasi may ipapagawa siya...mga ipinapakabit na paintings."
Douglas was scheduled for a hospital check-up and he was already late. Once inside the van, Douglas complained that it was chilly, so he lowered the van's air conditioning.
At around seven that evening, Ces noted, one of their companions asked Douglas if he wanted to stay in the hospital since he had earlier complained about the chills.
Douglas replied, "Hindi, kaya ko, kaya 'to."
Tito Dougs and the group returned to his home and had coffee. After a few cups, Douglas called it a night at around 8 p.m. "Magpapahinga na ako," he told his friends. Before leaving, Ces requested the househelp to prepare fresh shirts in case Douglas needed changing.
THE NEXT DAY. Ces slept overnight at Douglas's home and the following morning, at 7 a.m., he inquired if someone would check on Douglas through his bedroom window. He was told that Douglas was still lying in his bed, on his side. Two hours later, they proceeded to cook breakfast. At 10 a.m., Ces decided to call on Douglas himself and, with the maid Nora, entered the bedroom.
What he saw next puzzled him.
"Wala siya sa kama," Ces said. Turning to Nora, he asked: "Saan siya sa kama?"
What the maid possibly saw three hours before on Douglas' bed was his comforter. "Malapad, kaya akala nila siya 'yon."
ADVERTISEMENT - CONTINUE READING BELOW
When they looked at the side of the bed, Ces found his friend face down on the carpeted floor. "Hindi ako lumapit. Pagkakita ko, tinawag ko yung driver [Francis]."
Douglas's feet were already violet, said Ces. The househelp and driver burst into tears. When the doctor arrived, he formally declared that the talent manager was dead.
Douglas died of a heart attack. He expired at around 12 midnight of June 13. It was also revealed that his heart attack was due to complication with his current health condition, diabetes.
INFORMING EVERYONE OF THE BAD NEWS. Ces took the responsibility of contacting Douglas's partner in an events organization, Marilen Nuñez, who in turn contacted all of Douglas's talents including Richard Gomez and Lucy Torres, who were both in San Francisco, California, during that time; and Joey Marquez. "Tinawagan na din ang family," added Ces.
An emergency meeting was immediately set up by Douglas's talents and members of the Philippine Artist Managers Inc. (PAMI) at the home of Marilen Nuñez. This was followed by another meeting of PAMI at a restaurant in Tomas Morato Ave. with some writers to discuss what would be done now that Douglas is now gone.
With the help of Pagsanjan mayor Jorge "ER" Ejercito, who provided an ambulance, Douglas's remains were transferred to Manila from Lucban. Later, the remains were brought Chapels 7, 8 and 9 of the Heritage Memorial Park in Taguig.
Douglas will be laid to rest at the Loyola Memorial Park near the graves of his mother and sibling.