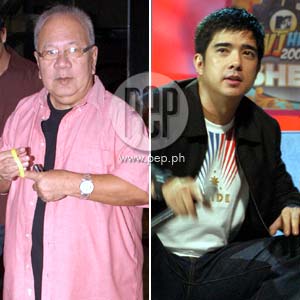 ---
A healing mass organized by the Professional Artists Managers, Inc. (PAMI) will be held tomorrow, June 16, at the Father Estioko Hall, Christ the King Mission Seminary, located at 101 E. Rodriguez Avenue in Quezon City.
The mass, to be officiated by healing priests Fr. Joey Faller and Glenn Gomez, will start at 7:00 p.m.
In an official statement by PAMI president, June Torrejon-Rufino, she mentioned the series of recent dilemmas plaguing the entire world as the reason behind the healing mass.
"To name some: the economic recession, the recent Air France crash, the North Korea nuclear threat and the Swine Flu epidemic, which has already affected some of our fellow Filipinos."
Local show business is also facing problems of its own.
Rufino enumerated: "The video scandal, Ted Failon's family crisis, the current state of our movie industry, rampant unemployment, the unending fight against film piracy and the sudden illnesses of some of our prominent peers, like former Senator Ramon Revilla Sr., and Johnny Delgado, ABS-CBN producer Ellen Rodriguez and our former president Corazon Aquino."
The solemn event will also commemorate departed showbiz icons Francis Magalona, Tita Muñoz, Paraluman, and most recently, talent manager Douglas Quijano—one of the founding members of PAMI.
"It is in this regard that we, the officers and members of PAMI, request all of our brothers and sisters in the local entertainment industry to attend this healing mass, so we can all together call on God to heal us both spiritually and physically, because we believe that with Him, in Him, nothing is impossible."