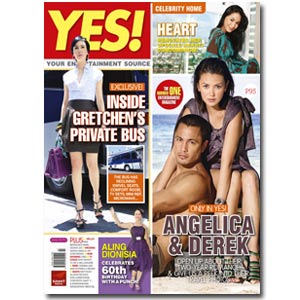 ---
YES! magazine is on a roll! After the astounding success of its January 2009 issue and the release of its thickest issue to date last June, YES! was recently chosen as Best Magazine of the Year in the Watsons Health, Wellness, and Beauty Awards FY 2009.
The Best Magazine of the Year award was based on the highest peso sales value from June 2008 to April 2009. YES! editor-in-chief Jo-Ann Maglipon says, "YES! is excited, humbled, and thankful all at once that Watsons has taken the time to announce us as its Best Magazine of the Year! We don't take this occasion lightly. We know how Watsons has many other important concerns as a leading beauty and pharmaceutical chain. We also know how its customers have to make thoughtful and wise purchases during these tough times. We therefore happily accept this title, filled with genuine gratitude and a serious promise to make YES! an even better read. Thank you."
ADVERTISEMENT - CONTINUE READING BELOW
YES! has also topped the nationwide TNS-Trends Newsstands Survey for three consecutive years, and was among the top five locally published magazines in the Philippines, based on the 2007 Synovate Media Atlas Survey.
The number one entertainment source in the country today, YES! is available in newsstands, bookstores, and supermarkets nationwide.