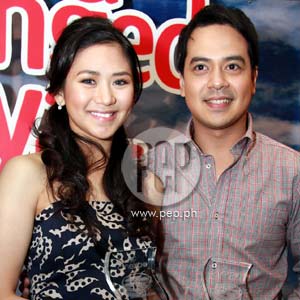 ---
Actor John Lloyd Cruz, whose talent matched with natural good looks make women swoon over him, earned his iconic "leading man" status ever since he starred as Yuri Orbida opposite Bea Alonzo (who played as Katrina Argos) in the primetime teleserye Kaytagal Kitang Hinintay back in 2002.
The chemistry he first had with Bea sparked off a legion of admirers who saw the tandem as a romantic love team that would go a long way. In a span of six years, the love team of John and Bea elevated to the next level thru movies and endorsements. For their fans, it was an unbreakable epic.
Or so they thought.
Year 2008 introduced a new leading lady for John Lloyd, an unlikely choice in the person of singer-actress Sarah Geronimo. Their first film together, A Very Special Love, was an experimental dish served to the multitude of John Lloyd-Sarah fans who thought that the pair looked great together. The positive feedback spawned another film, You Changed My Life, and it paved the way for this new love team as powerful as the "power hug."
ADVERTISEMENT - CONTINUE READING BELOW
John Lloyd's charm on the screen didn't escape the eye of his admirers off-screen as rumors popped out that he is romantically involved with his I Love Betty La Fea co-star Ruffa Gutierrez. Though not everyone would approve of this unlikely "team-up," a careful study of the couple can actually make some say, "They kinda look good together!"
In its pursuit to find out what the masses really think about which on- and off-screen lady would be best for John Lloyd, Spot.ph came up with a poll last Friday, July 10 and gave people the chance to vote for who they think was best. And vote they did—by the thousands!
Over the weekend, a total 28,501 votes came in, and the count as of today, July 14, numbers over 46,000—nearly double—with Sarah Geronimo amassing over 27,810 votes.
During the weekend, Bea had an early lead. But before she could get comfortable at the top seat with 17,988, Sarah's votes leaped up—thanks to Sarah's hardcore fans—and permanently cemented her place on top. Coming in third is John's rumored lover Ruffa, with just 879 votes.
ADVERTISEMENT - CONTINUE READING BELOW
Overall, the public thinks that Sarah is the best leading lady for John Lloyd. And their movies clearly show that the pair indeed have this kind of magic that easily make fans go kilig.
Good news though, the poll is still on and if you want your chance to either strengthen or topple the trend, log on to Spot.ph and start voting!