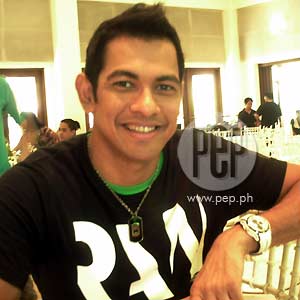 ---
Multi-awarded performer Gary Valenciano may be the perfect candidate for any position in next year's elections, but he wants to clarify that politics is not for him.
"I think if I had plans to be in politics, it would be a very clear-cut calling that this is where I gotta go. Popularity doesn't mean that you'll be a good politician," Mr. Pure Energy told PEP (Philippine Entertainment Portal) yesterday, July 15, at the presscon for his new endorsement Real Leaf Green Tea at the Blue Leaf in Taguig City.
Gary added that he feels he'll create a larger impact if he stays in the music industry.
"I think the effectivity of what I do is best seen and when it is heard through music. To me that's the best way. Sometimes it's a hit, sometimes people don't like the music but it's okay. But I feel that that's where I'm effective and that's where I choose to stay," he explained.
NOBLE IDEALS. Aside from writing and recording hit songs, the ASAP '09 host is also involved in several advocacies that adhere to his ideals for change. Gary is currently involved with scholarship programs Shining Light Foundation and One La Salle Scholarship Fund, and Y Power, an advocacy he started that aims to enhance youth values.
Working for 11 years as the National Ambassador for UNICEF, an international agency for children's welfare, Gary is currently busy promoting "Champions for Children." The campaign aims to enlighten Filipinos about the plight of rural children, who are forced to endure conditions like child labor and poor education.
Gary said they are planning to hold several mall tours to promote "Champions for Children," adding that the first one, set up in SM North The Block last May 30, was succesful because it convinced several people to send their donations and support. (Click HERE to read related story.)
ADVERTISEMENT - CONTINUE READING BELOW
"Many of them [supporters] pala really want to get involved in things like this and they're just looking for the opportunity. And UNICEF being as credible as it has always been, we feel can be a good vehicle and instrument for people to be really involved in making a difference in the life of a child," he explained.
CAREER PLANS. Aside from his advocacies, what other things can fans expect from the multi-awarded performer?
"I don't know if I have the liberty to say this, but I collaborated with Spongecola [a rock band] just recently, and we're thinking of doing certain things in the near future...to come up with something that hopefully will be a new thing for my fans. Even rock fans will go 'Wow, he did that?'" Gary explained excitedly.
Are there any plans to retire from the industry, now that he's turning 45 on August 6?
"No, not yet. I may stop dancing maybe in a couple of years and all, but the creativity will continue. Maybe it won't even have to be me to execute it... Maybe it's just for me to give the idea and for somebody else to do it. That's fine. But I will continue to be creative like that," he concluded.