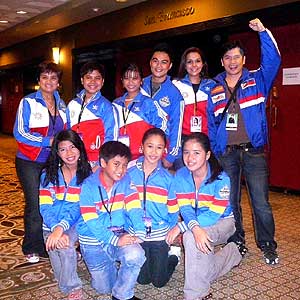 ---
LOS ANGELES, CALIFORNIA. July 15, 2009—Four singers and a singing group from the Philippines will move on to the grand finals of the 13th World Championships of Performing Arts (WCOPA).
These are ABS-CBN Little Big Star alumni Mayumi Morales and Rhap Salazar, The Young Voices of Negros, singer-host Martha Joy, and singing nurse CJ Concepcion. Martha Joy is known for being part of GMA-7's SOP and Walang Tulugan With The Master Showman.
The grand finals will take place at the Grand Ballroom of the Westin Bonaventure, Los Angeles on July 17, Friday, at 7:30 p.m.
Mayumi and Rhap will compete against junior solo vocalists Cale Moon of the U.S.A., Sofiya Dolganova of Russia, and Sarah Malloy of Ireland.
The Young Voices of Negros will be pitted against junior vocal group Celtic Fusion of Ireland.
Martha Joy and CJ will compete against Anna Zavtseva of Russia, Pearl Jarl of Sweden, Kimverle Molina of Saudi Arabia, and Siti Sarah Raissudin of Malaysia.
Team Philippines' Maila Mitra, Evette Pabalan, Oreo Vamenta, Divo Bayer, and Guy Lockwood made it to the semifinals.
The WCOPA grand finals night spotlights a competition unrivaled in the history of performing arts to celebrate... "The Champions of the World"! Agents, producers, directors and others from the entertainment industry are invited to judge, and to screen new faces and talent. Special emphasis is placed on entertainment value during judging. However, this in no way takes away from the technical aspect of the performances. Judges are looking for that special charisma and marketability that major entertainers have.
The top prizes at the WCOPA are the coveted "Grand Champion Performer of the World" titles. Besides awarding gold, silver and bronze medals in the elimination rounds, Olympic-style awards are presented to overall and grand champion winners in various categories of competition, along with $50,000 in scholarships to the famed School For Film and Television in New York.
ADVERTISEMENT - CONTINUE READING BELOW
Since the Philippines joined the WCOPA in 2005, five Filipino performing artists have won the global competition's top prizes: Jed Madela (2005 Grand Champion Vocalist of the World and Grand Champion Performer of the World), Cercado Sisters (2006 Grand Champion Group Vocalists of the World), Reymond Sajor (2007 Grand Champion Vocalist of the World), Aria Clemente (2007 Grand Champion Vocalist of the World and Grand Champion Performer of the World), and Catherine Loria (2008 Grand Champion Vocalist of the World and Grand Champion Performer of the World).
President Gloria Macapagal-Arroyo through the President's Social Fund, STAGES, photographer Jason Tablante, Moomba Bar and Café, Trumpets Musicademy, and Le Froge support 2009 WCOPA Team Philippines.