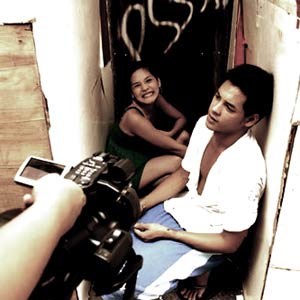 ---
Engkwentro is the only Filipino film to be included in the lineup of the 66th Venice Film Festival.
Directed by 21-year-old filmmaker Pepe Diokno, Engkwentro will be competing at Venice's Orizzonti (New Horizons) competition. For five years, this section has been providing an overview on new trends in cinema that are on the borderline between fiction and documentary.
This Cinemalaya 2009 entry is one of 23 feature films selected from around the world. Direk Pepe is the youngest Pinoy ever to compete at the festival.
The Venice Film Fest will run from September 2 to 12, 2009. It is the oldest film festival in the world and one of the most prestigious. Oscar-winner Ang Lee (Brokeback Mountain; Crouching Tiger, Hidden Dragon) is the president of this year's jury.
Last year, the 2008 Cinemalaya entry Jay, directed by Francis Xavier Pasion, was included in the Out of Competition section of the Venice IFF. That same year, Melancholia, directed by Lav Diaz, bagged the Premio Orizzonti (Orizzonti prize).
Engkwentro tells the story of two teenage brothers on opposite sides of a gang war. Complications arise at a deadly midnight "engkwentro" (clash), when one is tasked to kill the other. All these happen while the City Death Squad, a band of vigilantes supposedly backed by the mayor, is hot on their trail. The two brothers must find a way out of their dilemma in order to stay alive.
The film features young actors Felix Roco and Daniel Medrana as the brothers, and Eda Nolan as the girlfriend of Felix. Other cast members are Zyrus Desamparado and singer Bayang Barrios. Filmmakers Jim Libiran and Celso Ad. Castillo are also cast in Engkwentro.
Direk Pepe says the film is inspired by actual "death squad" killings in some cities in the country, where, in the last decade, over 814 people have been murdered by hitmen allegedly sponsored by the state. Reports say many of the victims are minors—including gang members, petty criminals, and street children.
ADVERTISEMENT - CONTINUE READING BELOW
Engkwentro was a finalist at the 2009 Cinemalaya Independent Film Festival, where it earned a Jury's Special Mention, a first in the festival's history. Shot in handheld style, the movie elicited strong reactions from Cinemalaya audiences. (Click HERE to read PEP's review on the film).
The production is hoping to get support from the Film Development Council of the Philippines and from private sponsors. This will cover the production of a digital cinema package (DCP)—a digital version of the 35mm film print—as well as airfare, and accommodations.
The filmmakers say support of any kind is appreciated. To get in touch with them, please email engkwentromovie@gmail.com.