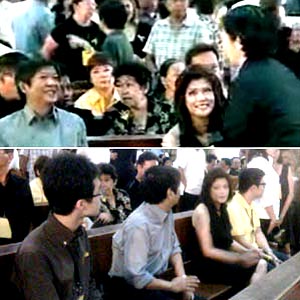 ---
The passing of former Philippine president Corazon "Cory" Aquino paved way to meaningful events, like the thousands of people who waited in line for hours just to get a last look at her and the rainy weather that carried the nation's grief.
But who would expect that two of former Philippine President Ferdinand Marcos's children would make their way through thousands of Aquino supporters to pay their last respects to the person who was responsible for toppling their father from his post?
At the wake of Cory yesterday, August 4, Imee and younger brother Bongbong arrived at the Manila Cathedral with Bongbong's wife, Louise Araneta, to offer their condolences to the bereaved Aquino family.
Such a sight may have surprised people within two meters of the Marcoses as they made their way near the Aquinos. Surprise may have turned to bewilderment when the same people actually saw Cory's eldest daughter, Ballsy Aquino-Cruz, greet them beso-beso style.
ADVERTISEMENT - CONTINUE READING BELOW
This act of welcoming and understanding developed in an amiable conversation between the Aquinos and Marcoses for nearly 30 minutes. Soon after, reporters who were probably snapped back to reality asked Bongbong what the visit meant.
Bongbong's answer was simple: "Wala, nakikiramay kami."
When pressed for details, the Marcos siblings declined. Although in an earlier statement, Bongbong said, "Our thoughts and prayers are with Mrs. Aquino and her family in this difficult moment. I know how her family feels because we also went through the same experience with my father."
The visit was marked by some as a way for the Marcos and Aquino families to reconcile, though Cory's only son, Senator Noynoy Aquino, thinks that an apology would do great as a prelude to reconciliation. However, he said in an interview with GMA-7, "Kami ay napapasalamat at siguro nga ho puwede maging isang daan 'yan na baka magkalapitan ng pananaw para sa ikabubuti ng ating bansa."
ADVERTISEMENT - CONTINUE READING BELOW
AQUINOS VS. MARCOSES. Unlike the petty political rivalries the country has today, the feud between the Marcoses and the Aquinos is considered one of the most serious issues ever since Ferdinand Marcos proclaimed Martial Law in 1972. The hate deepened when Marcos ordered to have then Senator Benigno "Ninoy" Aquino arrested and jailed.
Ninoy was tried and sentenced to death by firing squad, although it was never carried out. Choosing exile, Ninoy departed for the United States with his family in 1980. Three years later, on August 21, 1983, he returned home and was greeted with a bullet to the head at the tarmac of Manila International Airport.
Until now, Ninoy's assassination has not yet been solved.
Ninoy's assassination led to a peaceful uprising that led to the historical People Power in 1986 that eventually booted out the Marcoses after 20 years of power. In 1989, Marcos passed on due to kidney, heart, and lung ailments.
THANKFUL FOR THE ACT OF RESPECT. Such events have since passed on as written history and the mistakes made then all served as a reminder for today. The gesture that Imee and Bongbong made may be simple, but the effect will always be remembered. As Cory's daughter Pinky said, "We're thankful they made the effort to come... Sincere ang wishes nila, nakaka-touch. The least we can do is mag-thank you sa kanila."
ADVERTISEMENT - CONTINUE READING BELOW
(Click HERE to view photos taken during the August 3 mass at the Manila Cathedral)