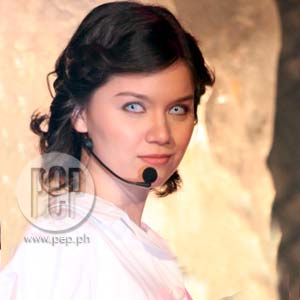 ---
PEP (Philippine Entertainment Portal) received a letter, through email, earlier today, August 7, from young actress Nadine Samonte.
This is in connection with an article that came out yesterday, August 6, here in PEP. The article titled "Nadine Samonte expresses disappointment over her role in Darna," was written by PEP contributor Archie de Calma. (Click here to read full article.)
In her letter, Nadine clarified and explained some parts of the article that came out in PEP. She also apologized to those who she might have hurt because of what she expressed in that phone interview last Tuesday afternoon.
Here is Nadine's letter, in full, as it was addressed to PEP:
"I understand that there was a story about me that came out yesterday on your portal about my supposed feelings on the latest assignment I got as Babaeng Impakta on Darna.
"Lest I be misunderstood further, I would like to put on record that I never said I am not happy with the role given to me. There was never a declaration on my part to that effect. Contrary to what came out, I am quite satisfied with the role since I am well aware that it is one of the major characters in the soap, and one that has the makings of an unforgettable performance.
ADVERTISEMENT - CONTINUE READING BELOW
"It was also made clear to me by the people behind the production beforehand that that role is important and will have its moments that is why I don't have reason to feel bad about such a role.
"I may have expressed disappointment in my conversation with Archie de Calma, but those were in reference to my performance as a whole and not specifically about a newcomer who got a break easily, nor to those who gave her the break. I was not actually blaming anybody for that. It was really just a random thought. I already know how the business works and I am very well aware that networks need to gamble on certain things to establish leadership. I am just sad because I know that it looked bad.
"If I have hurt anyone with this issue, I would like to apologize. It was never my intention to put anybody in a bad light. Please find it in your heart to understand me.
ADVERTISEMENT - CONTINUE READING BELOW
"Lastly, I'd like your readers to know that I am thankful for all the things that have been coming my way. I recognize the good fortune I have that despite the short span of an artist's career nowadays, I am one of those privileged with projects one after another. I have never experienced lull months in my career. I always have a job ready especially when a show ends. For a breadwinner like me, that is truly a blessing.
"I will forever be grateful to GMA-7 for what they have done for me and my family. Without them, I won't be here.
"Thank you very much for giving me the chance to say what's in my heart.
"Sincerely,
Nadine Samonte"
For his part, Mr. de Calma said that he just quoted what Nadine said in the interview, and he stands by what he wrote.