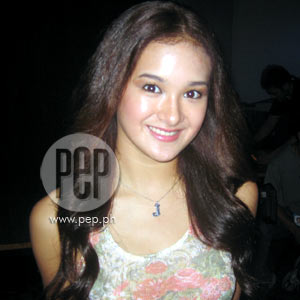 ---
Thirteen year-old Julia Abueva has been called a lot of things: child prodigy, amazing performer, teen sensation. The Singapore-based young singer, whose parents are both Filipino, says one tag is the most special—she is proud to be a Filipino.
"It's awesome! I'm proud to be Pinoy," said Julia, who was featured in the "Smartest and Most Talented Kids" segment of popular talk show Oprah November last year. At her tender age, she has already performed in hundreds of concerts and events in several countries around the world.
Julia's family moved to Singapore when she was four years old. Since then, she has gone back and forth to the Philippines for various concert performances. At the age of eight, she was a guest artist in the individual concerts of Pinay theater actresses Monique Wilson and Lea Salonga. She was also the voice behind "We're All Just One," the official hymn of the 23rd Southeast Asian Games held in the Philippines in 2005.
ADVERTISEMENT - CONTINUE READING BELOW
Julia, granddaughter of National Artist for Sculpture Napoleon Abueva, also has had the honor of performing before presidents, royalty, and foreign dignitaries of countries like China, Indonesia, Singapore, Sri Lanka, and the USA.
The Oprah citation, therefore, is well-deserved. Julia, however, did not have time to sing in the show. She said the episode coincided with her first solo sold-out concert held in Esplanade, Singapore.
Despite the acclaim in foreign countries, Julia said she misses the Philippines at times. Several Filipino habits cheer her up.
"You know I get really homesick when I'm in Singapore. Sometimes I miss the Philippines so much. So what I do, I just eat adobo, then I get my old Pinoy movies and I watch it all day," Julia told PEP (Philippine Entertainment Portal) during the launch of Encore, the new premier school for the performing arts in the Philippines, held yesterday, August 11, at Mag:net Café in Taguig City.
ADVERTISEMENT - CONTINUE READING BELOW
PEP asked the talented singer, who now sits as the new school's creative consultant, about the Pinoy movies that she loves.
"I like the love stories... those with Richard Gutierrez, John Lloyd Cruz, KC Concepcion," she said.
But since these movies are in Filipino, does she have a hard time understanding them? Can she still speak the language?
"Kaunti lang. 'Salamat po', 'mahal kita', ganyan," Julia said.
DREAMS OF STARDOM. The child prodigy said she was born to perform.
"Ever since I was small I always had this thing for performing. Like in parties I would always grab the mic and start singing when no one else wanted to," Julia said.
Julia added that as a child, she had memorized the themes of several Disney movies. At three years old, she learned how to use the VHS, and so she would spend entire mornings watching the movie Annie again and again.
ADVERTISEMENT - CONTINUE READING BELOW
Her big break came when she was seven years old. Her first performance was a guesting in another female singer's concert in Singapore, where she sang three songs.
Now at 13, she has already released a succesful CD single in Singapore. A full-length album is also in the works for next year.
Julia believes she can ultimately break out as a pop star in Hollywood. She also dreams to be a big Broadway star.
But since she's a true-blue Pinay, would she be willing to relocate to the Philippines just to pursue another career?
"You know, if there are opportunities here I would like to try because at my age it's best to take whatever opportunities come my way and see how I feel about it. Kinda just experience everything," Julia said.