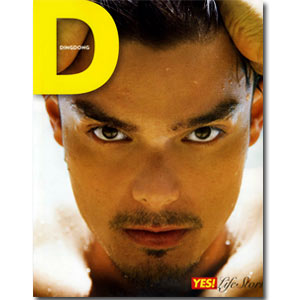 ---
"This book contains my most private realities, my deepest dreams, and my darkest fantasies," writes Dingdong Dantes before issuing a severe warning: "If you're not ready to handle my truth...then don't turn the page."
And so begins YES! magazine's first "bookazine" featuring the country's hottest matinee idol today—Jose Sixto Gonzales Dantes III.
DINGDONG IN HIS FRIENDS' EYES. Setting offthe maiden issue of YES! Life Stories, Dingdong reveals the story of his life in his own words.
"Kung hindi ako artista, I'm sure sundalo ako," narrates Dingdong of his family's tradition. "'Yong mga brothers ng dad ko, nasa service din, sa linya talaga ng mga military men."
Close friends describe him as "a reserved guy behind the camera," who is often misunderstood as "suplado." Yet Dingdong generously shares intimate details about his private and professional life.
Adding more voices to the bookazine are some of the closest people in Dingdong's life who share their valuable insights.
ADVERTISEMENT - CONTINUE READING BELOW
Longtime manager Perry Lansigan reveals how his ward would sometimes stop the car while in the middle of traffic to devour street food commonly peddled on the road. "Ako pa nga ang maarte!" Perry exclaimed. "Ako pa ang nandidiri: 'Ano ba ang mga kinakain mo, Dong?'"
Rumored girlfriend Marian Rivera, who co-starred with Dingdong in three Kapuso primetime series and one Regal movie, playfully says, "Magugulatin si Dong. Maghe-hello lang ako, magugulat na 'yan!"
Without saying much about the real score of their off-cam relationship, Marian recalls an experience from way back:
"Noong patapos na ang MariMar... tapos noong nagpapaalam kami sa SOP... naiiyak talaga ako!" Doon ko naramdaman na, 'Ay, mahalaga pala sa akin ang taong ito!'"
IMAGES OF INNER LIFE. There's more to the juicy revelations and never-before-heard confessions. In vivid color are pages of artistic images taken by ace photographers Massimiliano Cori, Jay Tablante, and Lon Liwen—Dingdong enacts his dreams and fantasies!
ADVERTISEMENT - CONTINUE READING BELOW
Presented in four segments—Reality, Dreams, Fantasy, and Perception—the pictures capture Dingdong in various roles and scenarios as conceptualized by the upcoming Stairway To Heaven lead star himself.
Dingdong unleashes his perfect physique while basking on the ranch, assumes the role of a decorated soldier, and takes on the legendary Spartan warrior Leonidas. He portrays these characters with much gusto and with his usual intensity.
The image of Dingdong—arms outstretched on a wooden cross with blood gushing on the side—emulating Jesus Christ's crucifixion is perhaps the most disturbing photo of the 29-year-old actor.
"Being a Leo, I have the tendency to become the dominant alpha male," Dingdong says in a moment of reflection. "However, there are times that I can become the opposite... I can go the other extreme. I always strive to achieve that balance. For me, everything I do, I put my heart into. It's never half-baked."
ADVERTISEMENT - CONTINUE READING BELOW
YES! editor-in-chief Jo-Ann Maglipon edited Dingdong's bookazine, Andrew Paredes wrote the stories, and Nat Clave served as art director.
YES! Life Stories: Dingdong will be launched on August 25.
(For more photos, click here)
SHARE THIS STORY YES! Life Stories" data-url="https://www.pep.ph/news/22885/dingdong-dantes-bares-his-most-private-realities-deepest-dreams-and-darkest-fantasies-in-yes-life-st" data-desc="The issue includes an exclusive sit-down interview with Dingdong and rumored girlfriend Marian Rivera." data-image="https://contents.pep.ph/images2/news/435dfdbf9.jpg"> YES! Life Stories" data-url="https://www.pep.ph/news/22885/dingdong-dantes-bares-his-most-private-realities-deepest-dreams-and-darkest-fantasies-in-yes-life-st" data-desc="The issue includes an exclusive sit-down interview with Dingdong and rumored girlfriend Marian Rivera." data-image="https://contents.pep.ph/images2/news/435dfdbf9.jpg"> YES! Life Stories" data-url="https://www.pep.ph/news/22885/dingdong-dantes-bares-his-most-private-realities-deepest-dreams-and-darkest-fantasies-in-yes-life-st" data-desc="The issue includes an exclusive sit-down interview with Dingdong and rumored girlfriend Marian Rivera." data-image="https://contents.pep.ph/images2/news/435dfdbf9.jpg">
SHARE THIS STORY
YES! Life Stories" data-url="https://www.pep.ph/news/22885/dingdong-dantes-bares-his-most-private-realities-deepest-dreams-and-darkest-fantasies-in-yes-life-st" data-desc="The issue includes an exclusive sit-down interview with Dingdong and rumored girlfriend Marian Rivera." data-image="https://contents.pep.ph/images2/news/435dfdbf9.jpg"> YES! Life Stories" data-url="https://www.pep.ph/news/22885/dingdong-dantes-bares-his-most-private-realities-deepest-dreams-and-darkest-fantasies-in-yes-life-st" data-desc="The issue includes an exclusive sit-down interview with Dingdong and rumored girlfriend Marian Rivera." data-image="https://contents.pep.ph/images2/news/435dfdbf9.jpg"> YES! Life Stories" data-url="https://www.pep.ph/news/22885/dingdong-dantes-bares-his-most-private-realities-deepest-dreams-and-darkest-fantasies-in-yes-life-st" data-desc="The issue includes an exclusive sit-down interview with Dingdong and rumored girlfriend Marian Rivera." data-image="https://contents.pep.ph/images2/news/435dfdbf9.jpg"> YES! Life Stories" data-url="https://www.pep.ph/news/22885/dingdong-dantes-bares-his-most-private-realities-deepest-dreams-and-darkest-fantasies-in-yes-life-st" data-desc="The issue includes an exclusive sit-down interview with Dingdong and rumored girlfriend Marian Rivera." data-image="https://contents.pep.ph/images2/news/435dfdbf9.jpg">