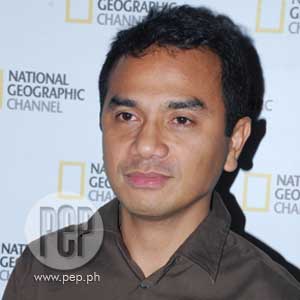 ---
Another Filipino production is all set to make Pinoys proud.
Direk Yam Laranas, one of the few Filipino directors who has already directed a full-length feature in Hollywood, is the head of Asia's Titanic, the first Filipino-produced full-length documentary for the National Geographic Channel (NGC).
The cable channel is known for producing high-quality shows about science, nature, culture, and history. To be able to produce a documentary for NGC, the filmmaker must be able to pass rigorous screening administered by its top executives.
Applicants to the screening process must pitch any topic that they feel will make a good documentary. If chosen, the filmmaker is given a grant that will cover the production cost of the proposed project, and a chance to premiere the finished film worldwide.
Direk Yam was one of the 15 Asian producers given the grant in 2004, out of more than 300 filmmakers from Asia who competed for the slot. It was the first time for an all-Filipino team to receive the grant.
ADVERTISEMENT - CONTINUE READING BELOW
The director's winning proposal was for a documentary on the MV Doña Paz tragedy. MV Doña Paz was a passenger ship that claimed the lives of more than 4,000 passengers when it collided with an oil tanker, off the shore of Mindoro Island, just five days before Christmas in 1987.
The sea mishap is regarded as the world's worst peacetime maritime disaster due to its death toll, beating the Titanic tragedy that claimed around 1,500 lives when it sank in 1912.
ASIA'S TITANIC. PEP (Philippine Entertainment Portal) talked to the director last Tuesday, August 18, at the documentary's media preview in Rockwell Cinema, Power Plant Mall in Makati. Direk Yam said he was very proud of the "all-Filipino" distinction.
"Yung full-blown production that was really produced by an all-Filipino team, ito yung unang-una. I think we should be very, very proud of it... We can be at par with the standards of the world," Direk Yam said.
ADVERTISEMENT - CONTINUE READING BELOW
The director and his team chose to film the said sea mishap because they feel its a story that the world needs to know.
"Ang claim natin is that it's the world's worst peacetime maritime disaster ever. In the world, nothing can beat this. Kung may world record sa pinakamaraming namatay, 'eto na. So we wanted the story," he explained.
Direk Yam said the documentary took more than three years to make because they were aiming for quality. Besides following a Bible-thick guideline supplied by NGC, the team also worked for precision, cross-checking every fact they acquire. Stock footage was also hard to get.
"Once you try a story like this, you need to be very careful kasi a lot of lives have been lost. You need to tell their story, but at the same time, you need to be factual. We cannot claim anything unless we have it cross-checked by experts," the director said.
ADVERTISEMENT - CONTINUE READING BELOW
Asia's Titanic will premiere on the National Geographic Channel on Tuesday, August 25, at 9 p.m.
INTERNATIONAL HORROR MOVIE. PEP also congratulated Direk Yam for The Echo, the horror movie he directed in Hollywood last year, now slated for a Philippine premiere on September 23.
The Echo is an adaptation of the director's 2004 Pinoy horror movie Sigaw, starring Richard Gutierrez, Angel Locsin, and Iza Calzado. Iza is also part of the Hollywood adaptation, playing the same role.
Direk Yam denied that the movie had only been released straight to disc in the U.S. He said the movie will be given a world premiere next month. The disc will be released in November.
"It's being released in selected theaters in North America. It's out in Europe, in Asia. I think whether it gets straight to theatrical, or straight to Blu-ray, I think the best part of it is that it's going to be released," he said.
ADVERTISEMENT - CONTINUE READING BELOW
The director added that the early reviews of The Echo assure that it will be a hit.
"When we screened it in Cannes, when we screened it in Montreal and also in Brussels, the reviews were very good, kasi ang nakakatuwa, it's a non-commercial horror film. I think that's the fun part of it. So I think people will love it," he said.
NEW MOVIE. Direk Yam also talked about Patient X, his reunion movie with Richard Gutierrez. He believes that the movie, co-produced by the actor, GMA Films, and Viva Films, will be much scarier than Sigaw.
Direk Yam said Richard specifically wanted him to direct the movie. Fortunately, he had just finished writing a script that is tailor-made for the Kapuso actor. The movie is currently in production.
"He was looking for me, kasi nga gusto niyang gumawa ng horror. And then when GMA talked to me, I said, meron akong ginagawang script. And I actually thought about Richard about this for a long time," he said.
ADVERTISEMENT - CONTINUE READING BELOW
The director was all praises for Richard.
"We know each other very well nga, e. Alam ko how to motivate him, he knows what I want... That's what's good about it if you work with friends and then people who respect your craft and vice versa," he said.
PEP asked Direk Yam if Richard's acting is affected by the Reckless Imprudence Resulting in Homicide case filed against him by the widow of Nomar Pardo, the PA who died in a recent car crash. (Click here to read related story)
"You know what? Once you're a good actor, even if you have a big problem, you can laugh at jokes and be the character... We don't talk about it. I know all about it. He mentioned it to me, one time. Pag ganyan naman kasi, we're there to make a movie. We're not there to talk about each other's problems. We're very professional," Direk Yam concluded.
ADVERTISEMENT - CONTINUE READING BELOW