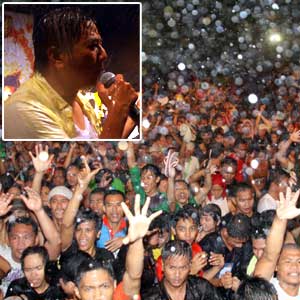 ---
Willie Revillame pulled in a massive crowd at Davao City's Tionko Field Stadium last night, August 23, 2009, for his show-on-tour, Wowowillie. This marked Willie's first public appearance since his leave from Wowowee, his regular noontime entertainment and game show in ABS-CBN, last August 10.
It will be remembered that a public outcry, backed by no less than the Movie Television Review and Classification Board (MTRCB), ensued following Willie's television outburst on August 3, when he questioned the screen inset of Corazon Aquino's funeral coverage on the Wowowee show. Since then, Willie has apologized for the outburst, but explained that his intention was to put things in their proper place. He felt, he said, that it was not proper to have the former president's funeral coverage side by side his entertainment program where there was merry making and hoopla. He said he wanted the network to decide on only one coverage on the screen at a time, not two, and he also said he did not mind if it was his show that was put on hold.
ADVERTISEMENT - CONTINUE READING BELOW
Also since then, Wowowee director Johnny Manahan has backed Willie (click here for whole report); and much later, so did ABS-CBN network manager Cory Vidanes (click here for whole report). Both top guns of the Kapamilya network said that Willie, although guilty of an onscreen outburst that became open to misinterpretation, definitely meant no disrespect to the Aquino family. This was also supported by Noynoy Aquino in a TV Patrol interview, and Kris Aquino in her SNN program, who both said there was no issue between them and Willie.
In his first public appearance, Willie was welcomed by a Davao stadium jampacked with thousands of people who sang and danced to his medley of songs, including the commercially famous "Giling Giling" and the plaintively famous "Ikaw Na Nga," despite a downpour that left no one dry. Giving support to the main man were the ASF (Ana S. Feliciano) dancers, from whose stable Wowowee's regular performers come; Chokoleit, a stand-up comic who has recently become visible on the ABS-CBN noontime show; and Vice Ganda, a talented gay comic who, like Chokoleit, can deliver spiels as well as sing.
ADVERTISEMENT - CONTINUE READING BELOW
The show, which began at 7:30 p.m., would have gone on for hours despite the rains, according to Kathy Solis of ABS-CBN, but one big power outage finally knocked dead the microphones, sound systems, and all their other equipment. By then, with only one major medley, a few dances, and no games as yet played, there was no choice but to end the show at 9:15 p.m. Wowowillie, which had been announced to start at 7 p.m., had people lining up as early as 8 a.m., Kathy added.
According to Kathy—who prefaced that the count was "conservative"—the Philippine National Police put the evening's crowd at 120,000. She also said that the Tionko Field Stadium made the organizers understand that Willie's appearance last night drew in the biggest crowd to the venue to date. The second largest is said to be the Iglesia Ni Kristo gathering middle of this year, which drew in 90,000 people.
ADVERTISEMENT - CONTINUE READING BELOW
Before wrapping up the show, Willie, who was himself drenched, went onstage to thank the crowd with visible tears in his eyes.
After the crowd had dispersed, Kathy said their ABS-CBN crew saw an elderly woman soaking in the rain and gave her a lift in their van. The old woman said her name was Labiana Eredania and that she was 71 years old. She was protected from the rains only by a Wowowee jacket that Willie had distributed earlier among the older folk in the audience.
Aling Labiana had traveled by herself from Sandawa, Davao, without informing her children, who, she said, would surely have objected to her making the trip, at her age, to a crowded stadium far from home. Asked why she came even without company anyway, she told Kathy that she just had to see Willie. Again asked why, she answered that it was because Willie treated old people like her special. "Priority niya kaming matatanda," Kathy quoted the old woman as saying.
ADVERTISEMENT - CONTINUE READING BELOW
WILLIE'S TEXT MESSAGES TO PEP. PEP went directly to Willie to find out how he felt about the show that was rained out but was raining men and women and kids. Through a couple of text messages this morning, while Willie was still in Davao, PEP got this from the host-entertainer:
"Paglabas ko sa stage bumuhos ang malakas na ulan di ako umalis sa stage at wala ring umuwi na tao. Kumakanta ako at ang lahat nagsasayawan. Naluha ako, di lang nahalata at nakita, dahil lumuluha ako kasabay ng ulan. I'm so blessed. Kikilabutan at maiiyak ka sa mga taong dumating. Lahat ng klase: mayaman, mahirap, bata, at matanda. Nagpapasalamat ako sa kanilang lahat...
"Nakahiga ako ngayon sa hotel. Naluluha pa rin ako, lalo akong tumitibay sa buhay pag nararamdaman ko ang pagmamahal ng mga tao. I'm so blessed. Sa sobrang mahal ako ng Panginoon gusto ko nang ituloy ang pagpunta sa buong bansa natin. Para yong di nakakapunta sa Wowowee ako na ang lalapit sa kanila. Lalo akong nainspire sa buhay dahil sa mga tao."
ADVERTISEMENT - CONTINUE READING BELOW