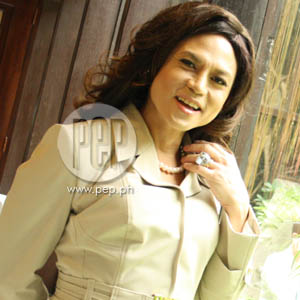 ---
With election campaigns already heating up, seasoned stand-up comedian and impersonator Jon Santos has found an interesting subject for his upcoming show—Kuring, Gluring, Syerrap at Dyuning: Election is Nearing (For Voter or for Worse)—on September 5 and 18 at the Teatrino Promenade in Greenhills, San Juan.
At the press conference conducted earlier today, August 28, at Annabel's restaurant on Tomas Morato, Quezon City, Jon introduced himself to the media guests as "Korona Sanchez"—his impersonation of popular ABS-CBN broadcast journalist Korina Sanchez, fiancée of presidential candidate Sen. Manuel "Mar" Roxas.
Roxas and Korina are busy preparing for their wedding on October 23, to be held either at the Sto. Domingo Church or Manila Cathedral. The couple have previously labeled the upcoming event as a "People's Wedding"—interpreted by ardent critics as a sly strategy of Roxas to gain publicity leverage against other aspirants.
The partnership perfectly fits the traditional dynamics of politics and courtship. Jon admitted feeling fascinated with the merging of two powerful personalities from different fields who are aiming for a common goal.
ADVERTISEMENT - CONTINUE READING BELOW
"'Yong fascination ko for the glamour of the romance nila ni Senator, the showbiz and politics, the high society and media thing," Jon told PEP (Philippine Entertainment Portal), explaining why he chose to adapt Korina's character in connection with the political theme of the show.
"The intrigue and fashion... Actually, nakakahiya mang aminin, magandang criteria [for impersonation] din kung glamorous kasi they look wonderful on stage."
WELCOME BREAK. Jon is a veteran when it comes to impersonating political personalities. He has done impersonations of flamboyant ex-First Lady Imeda Marcos, democracy icon Corazon "Cory" Aquino, deposed President Joseph Estrada, and even the diminutive former Senator Juan Flavier, to name a few.
Incidentally, even Jon's most famous subject, multi-awarded actress and Batangas governor Vilma Santos, has also joined politics.
Jon explained the appeal of comedy shows devoted enitirely to politicians: "I think nagkakaroon sila ng chance to get an hour or two of relief from the establishment, from people in power. A friend of mine put it so well: 'We hold their folly to the light to diminish its power.' I think from the time when Jose Rizal was spoofing Doña Victorina and getting into trouble, gustong-gusto na ng mga Pinoy 'yan."
ADVERTISEMENT - CONTINUE READING BELOW
Although comedians and impersonators have the license to openly make fun of public officials, Jon says the job is not enviable. Doing live comedy on important personalities, along with corresponding delicate issues, has its list of drawbacks.
"Very, very difficult because we are so diverse. It is very difficult to predict how much of your market will be offended and how much of your market will find it harmless. Sa shows na where I have 300 to 400 people like Teatrino and Music Museum, you have a little more control. You can pretty much determine the demographics. So, the challenge starts there.
"Kasi ang pananaw din natin is so diverse, so on every other person na sabihan mo of the same Malacañang joke, [it's] okay [with them] then other person ang sabihan mo of the same Malacañang joke, they're not okay with it. So it takes a lot of care."
ADVERTISEMENT - CONTINUE READING BELOW