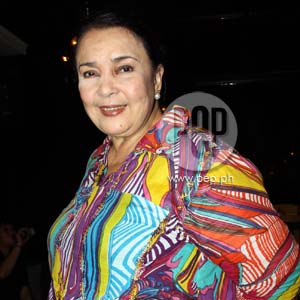 ---
"Now that he has done this to my son, I don't care anymore. I will fight him tooth and nail!"
This is the strong reaction of former actress Amalia Fuentes to the harassment she says is allegedly being done to her and her son Gerard Stevens by former husband Joey Stevens, with whom she broke up two years ago due to an alleged "other woman."
Last Wednesday, Amalia's 26-year-old son posted bail of 10,000 pesos in connection with a libel case filed against him at the Cebu regional trial court. Earlier, police served him with an arrest warrant at his house in New Manila, Quezon City.
The case was filed by a certain Angelica Aznar-Sierra, the alleged current partner of Amalia's former husband.
In an exclusive phone interview with PEP (Philippine Entertainment Portal) yesterday, August 28, the actress said her son's libel case prompted her to discuss with her lawyers a plan to file a concubinage case against Stevens and Sierra next week.
ADVERTISEMENT - CONTINUE READING BELOW
Article 334 of the Revised Penal Code defines concubinage as a case where a man cohabits with another woman, who is not his legally-married wife, under "scandalous circumstances." The said law penalizes the man with imprisonment, while the woman suffers the penalty of destierro (exile).
Amalia added that her son's libel case was orchestrated by her former husband, who she said is using Sierra to continue harassing them.
"This woman [Sierra] is his tool. She fell right into his trap," Amalia said. "He is using her to harass me and my son."
COURT CASES. Several lawsuits have resulted from the breakup. Last May, Stevens filed a robbery case against Amalia, Gerard, and two others, after they broke into Joey's office and allegedly took several of his property. In an earlier statement, the veteran actress said her group only took back what belongs to her.
Sierra, who comes from a prominent family of educators in Cebu, also sued Gerard for libel and three counts of unjust vexation before the Regional Trial Court in Cebu, for allegedly calling her hurtful names in his blog, which she said besmirched her reputation.
ADVERTISEMENT - CONTINUE READING BELOW
Sierra said in her complaint dated Feb. 8 that Gerard had "maligned her good name and reputation as well as caused her much pain, annoyance and anguish" due to his "obscene, derogatory, and offensive e-mail messages and violent actions."
Philstar.com reported on June 12 that Sierra started receiving messages at her Friendster account in December 2007 from a certain "Geric Stevens." Geric is the nickname of Amalia's son Gerard.
Sierra said the messages contained "offensive names," and accused her of having an affair with his father Joey. One other e-mail also invited Sierra to view a blog post in "Geric's" account, titled "My first blog ever: One Reason to Stay in School," which said Sierra was the "third party" that caused Amalia and Joey to separate.
Sierra said the allegation was "a clear concoction and is untrue."
PEP tried looking for the blog, but could not find it.
NOT GERIC'S ACCOUNT. According to Amalia, the blog referred to in the libel suit is not owned by her son Geric.
ADVERTISEMENT - CONTINUE READING BELOW
"Geric had no Friendster account when that happened. He deleted it so he could go to Facebook," she said. "Pinagtatawanan nga ni Geric yung blog, sabi n'ya, 'Ma, nobody uses Friendster anymore!'"
Amalia explained that even though she does not know a lot about information technology, she is certain that anybody can put up a false account in the previously popular social networking site.
Amalia said she has evidence that it was her former husband's secretary who put up the Friendster blog, and not Geric.
Sierra's counsel is also asking Amalia's party to remove the blog from the Internet. Amalia, however, said they don't know how, and that they haven't even seen the blog themselves.
"Hindi alam ni Geric yun. Hindi nga kasi kanya yun," she said.
Amalia added that Stevens and Sierra's filing of their cases in Cebu is part of their continued harassment as the trial courts are far from Amalia and Geric. She added that it was wrong of the two to do this, since both allegedly cohabit in a condominium in Pasig, not in Cebu.
ADVERTISEMENT - CONTINUE READING BELOW
With the planned filing of the concubinage case, Amalia said she will demand Joey Stevens to provide her with financial support, plus all the court expenses she has incurred and will be incurring.
"At the end of this, Joey will have to return all our expenses... how much he has to pay me for support," she avowed. "I'm not going to accept shit from any man!"