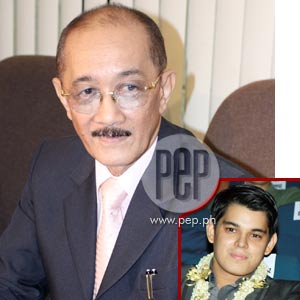 ---
Lorayne Pardo's camp is discontented with the Reckless Imprudence Resulting in Homicide case filed by the Cavite prosecutor's office against actor Richard Gutierrez last September 18 because it may allow the actor to "not serve sentence in jail."
According to Atty. Firdausi I.Y. Abbas, Lorayne's lead counsel, the case filed by the provincial prosecutors lacks the qualifying circumstance that constitutes Richard's "neglect" of his deceased personal assistant, Nomar Pardo, after the accident.
Atty. Abbas spoke in a presscon he headed this morning, Sept. 24, at the Abbas Law Firm in Greenhills, San Juan. Also present were Atty. Ombra Jainal, Lorayne, and Nomar's father Ramon Pardo, who previously told PEP (Philippine Entertainment Portal) that the Cavite resolution was "good."
Atty. Abbas said, "Sinampa na yung complaint na Reckless Imprudence Resulting in Homicide. Pero hindi kami kuntento dun sa resolution ng fiscal. Kasi yung qualifying circumstance na nilagay namin doon na si Richard did not extend immediate assistance to the victim [Nomar Pardo] as mandated under the law, e, hindi in-appreciate ng mga fiscal dahil iba yung kanilang katwiran."
Atty. Abbas added that if the prosecutors appreciated the qualifying circumstance into the case, Richard may serve a longer jail sentence than the maximum penalty of six years in Reckless Imprudence Resulting in Homicide cases. With the six year penalty, he can also apply for probation.
"Now if it is qualified... it [penalty] would be graduated to prision correccional in its maximum period to prision mayor to its minimum period, which means four years and two months and one day, to eight years instead of just six years," he said.
According to the Probation Law of 1976, or Presidential Decree 968, convicted offenders sentenced to more than six years in prison shall be disqualified for probation (serving sentence outside prison).
One of the three conditions for the court to grant probation is if the convicted offender can prove that there is "undue risk that during the period of probation the offender will commit another crime."
ADVERTISEMENT - CONTINUE READING BELOW
Article 365 of the Revised Penal Code states that a person who causes the death of a person due to imprudence and negligence in a vehicular accident shall be penalized with a maximum jail time of six years. It adds, "The penalty next higher in degree to those provided for in this article shall be imposed upon the offender who fails to lend on the spot to the injured parties such help as may be in this hand to give."
FINDING NOMAR. PEP (Philippine Entertainment Portal) previously published detailed reports that Richard Gutierrez's sportscar hit one PLDT post and three coconut trees while driving on the Sta. Rosa-Tagaytay Road at about 1:30a.m. of May 22. The actor immediately went out of his car to look for his personal assistant. Nomar Pardo had been thrown out of the car, landing 10 meters away. Since it was still dark, Richard was not able to find Nomar. Richard was rushed to the hospital minutes later.
In Richard's counter-affidavit, affirmed in Cavite last Sept. 4, he stated that he "initially refused" to be brought to the hospital because they still "have not found Nomar" at that point, but he was "prodded to do so."
On the other hand, Lorayne said in her Reply-Affidavit filed on Sept. 4, that the actor "failed to immediately render assistance" to her husband because he "neglected" him.
In the four-page resolution, however, prosecutors Larry Cabero, Alexander Eric Leveriza, Rosa Elmina Villarin, and Provincial Chief Prosecutor Emmanuel Velasco said Richard's action to leave the accident site to seek medical attention "could not be taken against him."
The resolution read, "It is hardly believable that anyone inside the vehicle could have survived. Thus, assuming for the sake of argument that respondent immediately proceeded to the nearest hospital for medical attention, such act could not be taken against him [Richard]. Human experience has time and again demonstrated that instinct to survive is paramount."
ADVERTISEMENT - CONTINUE READING BELOW
THREE CIRCUMSTANCES. Atty. Abbas insisted, however, that the prosecutors should have appreciated Richard's action into the case.
"The law is very clear. There are only three instances where the driver or the offender can leave the scene of the accident," he said.
Sec. 55 of R.A. 4136, or the Land Transportation Code, states: "No driver of a motor vehicle concerned in a vehicular accident shall leave the scene of the accident without aiding the victim, except under any of the following circumstances: (1) If he is in imminent danger of being seriously harmed by any person or persons by reason of the accident; (2) If he reports the accident to the nearest officer of the law; or (3) If he has to summon a physician or nurse to aid the victim."
Abbas said Richard's situation did not fall under any of the three circumstances.
"One is that there is fear that harm would come to himself, halimbawa, yung dudumugin siya, there is a mob or ili-lynch siya. Eh, wala naman doong mag-lynch sa kanya. Second, he did not go to the nearest police station to report the incident. And third, he did not go to seek medical assistance not for himself but for the injured. He didn't do these.
"So ang in-appreciate ng mga fiscal, yun daw na nasaktan siya o ano but it's very clear that the injuries he suffered were very, very minor, very superficial... Hindi maski sila tumawag ng ambulance.," Atty. Abbas asserted.
POSSIBLE PROBATION. Atty. Abbas said his office is planning to file a petition with the Department of Justice (DOJ) for that office to appreciate the qualifying circumstance into the case, once Richard's camp files a petition for review.
"I'm sure the lawyers of Richard Gutierrez will file a petition for review before the Department of Justice, para ma-suspend nila yung arraignment. And they will have sixty days. So we might also take the opportunity and also file a petition partially asking the Department of Justice to amend or change the resolution and appreciate the qualifying circumstance," Atty. Abbas said.
ADVERTISEMENT - CONTINUE READING BELOW
Atty. Abbas said that if their petition is not granted by the DOJ, Richard can serve his sentence outside prison because his sentence will be pegged at six years.
"Kasi if its only six years, I'm sure if he will be convicted, I'm sure his lawyers will apply for probation, so he will not serve sentence in jail. But nonetheless its still up for the court to approve or not," he said.
Atty. Abbas also commented that Richard's posting of bail worth 30,000 pesos yesterday, Sept. 23, at the Quezon City Regional Trial Court was an effort to "avoid humiliation."
"Nag-bail na, the other day. Kasi makakuha ka naman ng bail kahit saan, you don't have to go there. Well, actually inunahan na nila yung warrant of arrest... Kasi mahirap yung aarestuhin ka pa. It's humiliating, nakakahiya," the legal counsel said.
CLICK HERE for Part II.