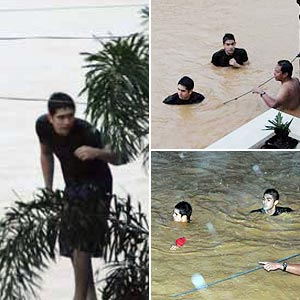 ---
In the showbiz world, Gerald Anderson is a heartthrob, a hunky cover boy, and an actor with promising talent to boot. But to his neighbors today he is just Gerald, the concerned boy who braved deep floodwaters caused by typhoon Ondoy to check if his neighbors were okay.
Now, if you happen to be a neighbor of Gerald Anderson looking out the window, you may think that the young man was acting out a rescue scene for a telenovela, ready to plunge down the muddy waters and pull out the leading lady from its depths. But this is reality. There are no lights and cameras or leading ladies, only action and reaction in an unavoidable situation in which lives are at stake. Gerald had to calculate decisions and do what was right.
QUIET NEIGHBORHOOD TURNED DISASTER AREA. Dr. Divina Gracia Rosales-Murao is a neighbor of Gerald in Vista Real Classica, Quezon City. That Saturday morning, the rain that started as a drizzle escalated to a steady downpour that eventually turned the village street into a wide pool. For Dr. Divina, it was something worth worrying about, and it was a concern shared by Gerald as well.
ADVERTISEMENT - CONTINUE READING BELOW
She tells PEP thru email, "Even before the water level started to go up, Gerald and his brother Kenneth were already visible, perhaps trying to assess what's going to happen next. He was still carrying his dog that time."
She watched the entire scene from her veranda. After one hour, the water had already risen at an alarming rate. At about 2 p.m., the water had come level to the doctor's ground floor—a very scary thing, considering that their street is on higher ground. For Dr. Divina, it was safer to stay put in the veranda. For Gerald and a few male companions, however, they took it upon themselves to check on people.
"Gerald and company tied ropes over trees para maging guide nila since the house in front of us is getting more damaged," narrates the doctor. "They really tried to cross the raging waters but it was a little difficult na... They were nowhere in sight na rin since I also have to check on our place."
ADVERTISEMENT - CONTINUE READING BELOW
Undeterred by the increasing current, Gerald looked for help. Before dark, he arrived with Cesar Montano and Bayani Agbayani, who lived a few blocks away. By this time, the water level had risen even higher, but the group managed to scramble up Dr. Divina's wall to ask if she needed assistance in evacuating.
"Actually we are still okay pa," explained Dr. Divina. "They were asking if we plan to evacuate since they saw we have kids inside the house. Actually mas concern ko was my brother who lives in Queensland Street just a few houses away from director Jun Flores and Jean Garcia."
As it turned out, that part of the village was more damaged, and the current, stronger. Gerald himself told Dr. Divina that they had a hard time getting through. Then, they again left for help and returned in an hour, this time with a rescue team that would eventually check on the other homes in need of rescue and food.
ADVERTISEMENT - CONTINUE READING BELOW
THANKFUL FOR HIS INITIATIVE. For the doctor, the celebrity glitz that Gerald's fans see in him in was not present at all. In its place was a wet, cold and dirty person who chose to disregard personal safety to make sure that his neighbors were out of harm's way.
"I give compliments to Gerald...that he gave his own self, his time, his concerns to check on his neighbors," said Dr. Divine, "including me and my family. He tried to be the ordinary person he is...just like us—just like everyone else with the humanitarian heart."