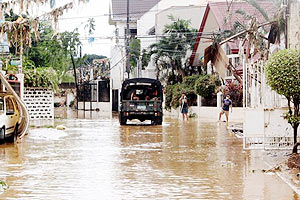 ---
While PEP (Philippine Entertainment Portal) was trying to search more photos portraying the celebrities' acts of heroism, we also chanced upon a few "comments" in the popular social networking site Facebook.
Yesterday, September 29, a "photo" circulated showing an AFP truck, which was moving down one of Provident Village's muddy streets.
The photo seemed an ordinary scene, but it was the caption that caught our attention: "Cristine Reyes was inside, headed back to her home to get stuff. The truck refused to stop to aid anybody even if there were still many people desperate for help."
Through PEP contributor Allan Alterra, we were able to give Cristine Reyes the heads up about the "photo" that night, and her strong reaction: "Hindi totoo!"
Early this afternoon, PEP staffwriter Mark Angelo Ching brought it up again during Cristine's thanksgiving party at the Kaboom Grille on Timog Avenue, Quezon City.
She said, in a calmer tone this time: "Hindi maganda yung ginagawa niyang paninira ngayon. Dahil sa nangyayari ngayon, bakit may time pa siya para manira at maglabas ng mga negative na bagay? Hindi nakakatuwa."
ADVERTISEMENT - CONTINUE READING BELOW
We were able to locate a village resident, who was one of the people walking along Melbourne St. at around 9:40 a.m. last Sunday, September 27. He claimed that he saw Cristine inside the AFP truck.
In his email, he narrated: "Along with about a dozen people, we were wading through very thick mud, along Melbourne Street, headed towards the Provident Village's gate, when an army vehicle throttled towards us, and we had to wade through the mud, to stand aside so they could pass.
"Some of the people walking along with us hailed the vehicle, so they could ride, or get help. It was very difficult to get through, and we needed help traveling. The truck driver ignored us, and just drove ahead."
But what made him react was the fact that there were only three people inside the truck. He added, "There was a lot of space inside."
And one more thing that surprised him was that the Kapamilya actress was one of the passengers. "Many of us saw that Cristine Reyes was inside the vehicle. Some people started shouting, and she moved further inside the vehicle," the source said.
ADVERTISEMENT - CONTINUE READING BELOW
Could it have been a case of mistaken identity?

His answer, "I don't want to make judgments regarding Cristine, and I didn't get a clear view of her, personally.
"I don't know how and why she was in the army truck, but many of the people wading in the mud with us were very angry because we really could have used some assistance, and felt that she had hogged an important vehicle which could have helped so many more people."
Back to Cristine, we told her that some people claimed they saw her inside that truck. And she simply said: "Wala po akong sinasakyan na truck. Walang humihingi ng tulong."
When she returned to their village, she boarded "Starex ng ate."
RICHARD'S RESCUE STORY. Another post titled "How to be a Hero: Richard Gutierrez saves Cristine Reyes" proliferated in Facebook last Sunday.
It contained three images, including a print screen of one post which claimed that "Richard refused to help an infant."
ADVERTISEMENT - CONTINUE READING BELOW
But in the interviews of the Patient X lead star, he explained how difficult it was to enter his leading lady's village because of the strong current.
He told Showbiz Central last Sunday, a few hours after rescuing Cristine with the speed boat he had borrowed from friend that "it was really an eye-opening experience."
Richard continued, "Para siyang end of the world. It's hard to describe...It's hard to describe the scene, the feeling, the emotion, dahil maraming taong humihingi ng tulong, maraming taong sumisigaw, humihingi ng pagkain...At napakadilim, may mga kotse na lumulutang, mga aparador, mga appliances lumulutang dahil sa baha.
"Hindi talaga kami basta-basta makakadiretso. Nung una, kapantay namin yung mga kable ng Meralco, so bago kami...bago namin malampasan yun, kailangan namin buhatin lahat ng kable. At may mga kable pa na bakal talaga. And dun kami nahirapan dahil bawat kanto may kable.
"There was a point pa na babangga kami sa isang bahay dahil sa lakas nga ng agos ng tubig, dinadala yung speed boat. Hindi na makontrol yung speed boat so kelangan ko tumalon. Tumalon ako sa tubig para tadyakan yung pader ng bahay para hindi kami mabangga. Hinarang ko yung sarili ko dahil babangga kami, baka tumuloy-tuloy kami sa loob ng bahay, hindi na kami makalabas..."
ADVERTISEMENT - CONTINUE READING BELOW
To cut the story short, he was able to save the actress after "five hours" of braving the strong current and other obstacles.
But even after detailing his rescue operation, the intrigues did not stop hounding Richard.
Facebook users continued to share and comment about this particular post (published as is): "Si richard gutierrez dumating rito in an effin' speedboat, hinahanap lang si christine reyes...the guy we sheltered has his infant on the roof since noon. The effin excuse for a man who didn't even let the man on his boat when the man actually dove when he saw them. He didn't even rescue the infant."
PEP contributor Jojo Gabinete has a plausible explanation, the boat was "nasira" that's why Richard was not able to return. This he got the actor's mom, Annabelle Rama, when he rang her last Sunday to borrow the speed boat that was used by Richard.
ADVERTISEMENT - CONTINUE READING BELOW
At that time, Arnel Natividad, a director of ABS-CBN and husband of Showbiz Central executive director Mildred Natividad, was still trapped at the second floor of his house in Pasig, and had yet to be rescued.
Even the tweets of Raymond, Richard's twin brother, and Bubbles Paraiso in their Twitter accounts talk about the ordeal that the actor had to go through.
Bubbles wrote, "Richard need help! Stranded in the middle of Marikina River now...Current too strong for the speedboat :( Please send rescuers."
That in the end, the rescue group had to "pick them [Richard's group] from the Riverbanks," as Raymond posted in his Twitter.
Moreover, a Showbiz Central reporter named Malou Tibayan was there at the area during the rescue operation. "Ang dilim-dilim" was how she described the place. She also mentioned that it would be hard to recognize the faces of people.
But still, the tittle-tattle questioning Richard's effort to save his leading lady has not died down.
ADVERTISEMENT - CONTINUE READING BELOW
Now, who's telling the truth?
It would be hard to tell whether the additional information and side stories that have been circulating are true or not. It would also be futile to keep the debate in forums and blogs going.
One sure thing: Cristine was saved, and it was her leading man's boat that got her.