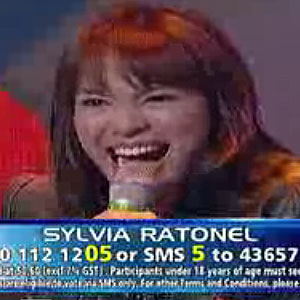 ---
Good news, people. Euro-Filipina Sylvia Ratonel, who works as a secretary in Singapore, joined Singapore Idol on its third season and is currently enjoying her place in the show's Top 12 roster of other talented singing hopefuls.
The show, which is one of MediaCorp TV's roster of television shows in Singapore, started its third run back in August 9, 2009. Over hundreds of contestants auditioned back in May 1, 2009 and forty were chosen from the top 100. Out of the forty, twenty-four were chosen to take part in the two-part Piano Show.
They were later trimmed down to Top 13, based on viewers' votes and judges' choice. Sylvia was one of the judges' choices.
In the first weekly performance, where the Top 13 had to sing chart toppers, Sylvia performed Alicia Keys's "Fallin'. Because of her impressive performance, Sylvia survived the first elimination; Syltra Lee was eliminated.
In the Top 12 performance, the contestants had to sing songs from the year they were born. Sylvia chose to sing Guns 'N Roses' "Sweet Child of Mine."
The 21-year-old's version of the song did not exactly impress the Singapore Idol judges (Ken Lim, Florence Liam, and Dick Dee), but they unanimously commented that Sylvia's energetic nature would get her further in the competition. That said, voting came into place and thankfully, Sylvia's version did not have her end up in the bottom three.
Next to be eliminated from the show was 21-year-old student Justin Jap who shared the bottom three Malaque Mahdaly and Tabitha Nauser.
Another contestant in this season of Singapore Idol is named Mae Sta. Maria. We are not sure, however, if Mae has a Filipino blood.