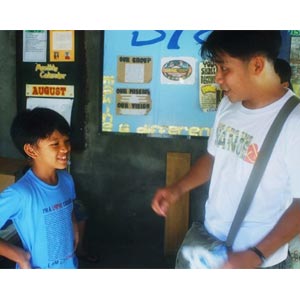 ---
Filipinos are making waves abroad not just in the entertainment scene, but also through humanitarian efforts.
On Nov. 26, Cavite native Efren Peñaflorida, Jr. is stepping into the halls of the Kodak Theatre in Hollywood to attend CNN Heroes: An All-Star Tribute, which will honor him and nine other people from around the world who are "making a difference."
CNN, which marks its third year of recognizing heroes around the world, will award Efren $25,000 for his "extraordinary accomplishments."
The 28-year-old educator won the recognition from the international news agency because of his Dynamic Teen Company, a volunteer organization he founded that aims to uplift the lives of poor children living in slums in the Philippines.
His name was chosen from among 9,000 nominations. A distinguished Blue Ribbon Panel reduced the number to 25 Heroes last February, and to the Final 10 this week.
Efren also has the chance to receive an additional $100,000 if he wins the "2009 Hero of the Year" award, determined through online voting at CNN.com/Heroes. The online poll will end on November 19.
Efren founded the Dynamic Teen Company in high school, when he observed that the students in his public high school were joining gangs and proliferating "bad conduct." With the help of two high school friends, Efren provided an alternative to gang behavior through volunteer work.
"Efren Peñaflorida gives Filipino youth an alternative to gang membership through education. His Dynamic Teen Company's 10,000 members have taught basic reading and writing to 1,500 kids living in the slums," the CNN Heroes website said.