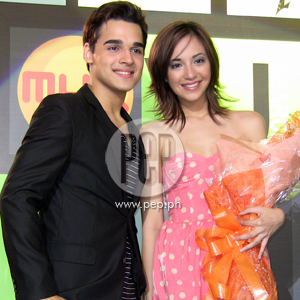 ---
Music channel MYX has two new VJs.
They are marketing specialist Janine Ramirez and theater performer and student Nel Gomez.
Janine, 22, was in tears when her name was announced as the new female VJ of MYX, while 19-year-old Nel fell to his knees then raised his hand to thank God when his name was called next as the new male MYX VJ. The announcement was made last night at the MYX VJ Search 2009 finals held at the Activity Center of the SM Annex in North Ave., EDSA, Quezon City.
Janine and Nel were part of the eleven finalists who went through intensive challenges and tests to vie for the two open spots in the MYX VJ roster. The other nine finalists were: Andi Eigenmann, 19, actors Jaclyn Jose and Mark Gil's daughter; Ant Santos, 22, a young chef from Oklahoma, U.S.A.; Jade Sison, 18, a model student; Kevin Lapeña, 19, Lipgloss actor and student; Lana Roi, 21, a Canadian-born singer-performer; Miko Morente, 19, a student and part-time model; Miki Hahn, 20, a budding recording artist and student; Sarah Gaugler, 22, a visual artist, musician and tattoo artist; and Toff Tiozon, 25, a former Batibot cast member and graphic artist.
Nel said in an interview with PEP (Philippine Entertainment Portal) after the show that he did not expect to win. "All of the five guys could win. And I really expect...to Miko, big shout out to Miko! If I wasn't the winner, he would deserve this. Grabe...Ah, I'm speechless right now!" (CLICK HERE for his interview)
Janine also was just happy for the other girls and was preparing to congratulate the winner. "I didn't expect to win. I was happy for whoever who would win and if it was me, then I would not know how to react, that's why I had no idea what to do when I was onstage!"
ADVERTISEMENT - CONTINUE READING BELOW
What now after this?
"After this, I'm excited to work for MYX and be a VJ for MYX, and hopefully even [work for] other projects!" Janine answered excitedly. (CLICK HERE for her interview)
Before the announcement, the audience were entertained with performances by the finalists and by Princess Velasco (CLICK HERE to watch her performance), Gian Magdangal, Sugarfree (CLICK HERE for their performance) and Chicosci (CLICK HERE for their performance).
Except for VJ Nikki Gil, the other MYX VJs were present during the show. Celebrity VJs Iya Villania and Luis Manzano, shared hosting duties with VJ search alums Andrei Felix, Robi Domingo, Chino Lui Pio, Monica Yncierto and Bianca Roque. Last year's finalists were also there to share what they gained from the experience of being in the MYX VJ Search.
MYX also announced at the end of the finals night that two present VJs will be leaving MYX. They will make the announcement on November.
CLICK HERE for the dance intro of the finalists.
CLICK HERE for the other videos of MYX VJ Search 2009 or go to www.pep.ph/peparazzi