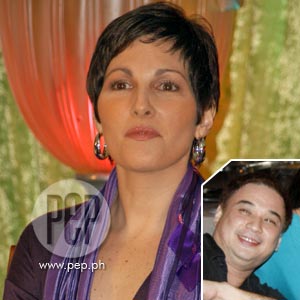 ---
Singer-songwriter Pilita Corrales has nothing but praise for son-in-law Ricky Davao for being a good and responsible father to her three grandchildren, despite rumors that he and her daughter Jackie Lou are experiencing marital troubles again.
Pilita commented on those rumors on Startalk yesterday, October 17. "When it comes to both of them, wala na ako diyan. He loves the children very much and for me that's the most important thing and I think also for Jackie. For Jackie, as long he is there when the children need him, she is happy."
Ricky, she added, would come to her directly if he was indeed having issues with Jackie. "The point is," she added, "if there is any truth to that, I wish they would open already and everybody tells me. For me, it would be better if they decide already. Whatever they decide."
Jackie Lou, who stars in GMA-7's primetime soap, Kung Aagawin Mo Ang Lahat Sa Akin, had this to say: "I don't think naman na we've ever been naman na not ok, e. Sometimes it's ok, sometimes it's not ok."
ADVERTISEMENT - CONTINUE READING BELOW
In January 2008, the actress admitted that she and Ricky faced a marital crisis six years earlier. But she was quick to add that no third party was involved.
Recently, a gossip columnist reported on her broadsheet's website that Ricky was often seen in the company of a magazine publisher.
MARITAL TIP FROM MOM. One of the most important lessons Jackie learned from mom Pilita was that whenever there's a problem in the household, one should not leave the house. Why is that, exactly?
"I think what my mom's point is to say that if you physically separate yourself from a spouse or from a family member, e, you might get used to that," explained Jackie. "Tapos wala ka nang way."
Jackie also shared that just like any mother, her mom can immediately sense if there is something adrift in her relationship with Ricky.
"My mom, she knows me so well," she said. "She knows Ricky and kahit siguro hindi namin sabihin malalaman at malalaman niya. May kutob ang nanay, e. I think what is important is to try and solve whatever it is. Kung papatulan mo 'yon [rumor], what will it help? I don't think it would help. After all, bottom line is kaming dalawa ang mag-aayos."
ADVERTISEMENT - CONTINUE READING BELOW
Jackie said she was not a bit affected by rumors and that they should be laid to rest for good.
"I mean, I really don't know kung saan galing iyon," Jackie said. But if I wanted to react kung feeling ko na totoo siya or naiinis ako, e, siguro I would have said something."
Then with a laugh, she ended: "Basta kami, ok kami, bahala kayo!"