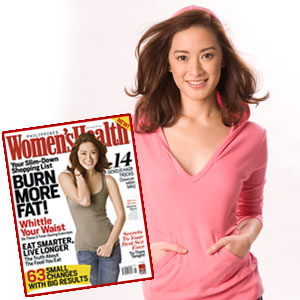 ---
Showbiz newcomer Maricar Reyes seems to have it all: a medical degree plus a budding showbiz career to back up her chosen profession.
A controversy in June, however, threw Maricar into a glaring spotlight. Suddenly no one wanted to be in the shoes of the pretty 28-year-old doctor. That controversy was the infamous video scandal involving a well-known cosmetic surgeon.
But unlike the other showbiz personality who was likewise dragged into the issue, Maricar opted to maintain her silence. Though Maricar was left defenseless against malicious speculation, keeping a dignified silence earned her the public's sympathy. As the popular showbiz adage goes, "bad publicity is still good publicity." Maricar's grace in dealing with all the "sound and fury" apparently boosted her young career.
BEING STRONG. Not that Maricar was unaffected by the scandal. In an interview with Women's Health Philippines (November issue), she refers to the experience as the most difficult thing she had to go through. Recovering from depression was no easy feat, but the collective support coming from her family and friends enabled Maricar to put the entire brouhaha behind her.
"When you're facing adversity, whether you're a man or a woman, I think three things are important. First, introspection. You look at what you did wrong, what you could have done to contribute to the situation. Second, you learn from it. And third, you do something about it," she tells Women's Health.
The ordeal toughened Maricar's resolve to move forward and pursue her dreams. At the height of the scandal that even reached the Senate, the doctor quietly opened her own clinic in Pasig City.
But she's not just any doctor. Unlike her peers and colleagues, Maricar has the privilege, and disadvantage, of balancing two demanding professions at the same time. She admits though that she's still mulling on what medical specialization to take up.
ADVERTISEMENT - CONTINUE READING BELOW
"It's dangerous to assume you'll stay in show business. Swertihan din kasi if the public likes you. You never know how long you're going to last. But I love it," she says about her unexpected showbiz career.
Maricar, who also happens to be a triathlete, calls her clinic "a dream come true." She adds, "But you can't stop there. You shouldn't stop there. That's only a small star, an encouraging star to keep me going."
Credit also goes to Maricar's home network, ABS-CBN, for shielding the Star Magic talent from further public flogging following the video controversy. The network does more than just assign projects to its stable of talents, says Maricar.
"I'm very lucky because the network is very respectful of what I want to do, the roles I want to portray, and how I want to handle things."
Despite being a neophyte in the field of entertainment, Maricar is well aware of the perks offered by the glitzy yet competitive industry. She takes care not to be caught by its trappings.
"Hopefully, I won't change for the worse," Maricar mentioned meaningfully.
Grab a copy of the November issue of Women's Health Philippines, featuring Maricar Reyes on the cover, now available in newsstands, bookstores, and supermarkets nationwide.