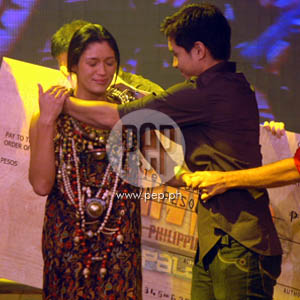 ---
The half-Pinay and half-American construction worker from Alaska, Amanda Colley Van Cooll, was proclaimed Pinoy Sole Survivor in the second season of GMA-7's hit reality series Survivor Philippines: Palau.
The results were announced earlier tonight, November 13, via a live presentation at the Studio 5 of GMA Network Center.
It was a very close fight between Amanda and second-placer Justine Ferrer. Amanda had four votes while Justine had three.
The other finalist, Jef Gaitan, did not receive any votes from the seven Jury members composed of the following castoffs: Marvin Kiefer, Tara Macias, Echo Caceres, Suzuki Sadatsugu, Shaun Rodriguez, Mika Batchelor, and Charles de Vera Fernandez.
As the second Pinoy Sole Survivor, Amanda won three million pesos tax-free. She said that she will use her winnings to pay off her debts and to start her own chicken farm business.
Amanda's strategy at the start of the game was to stay under the radar so the other castaways wouldn't notice her. The strategy proved to be effective because the "Probinsiyanang Tisay" was able to stay in the game until the very end, thanks partly to her alliance with fellow original Airai tribemate Mika.
ADVERTISEMENT - CONTINUE READING BELOW
Her experience as a construction worker also helped Amanda in the challenges, making her one of the strongest female castaways this season. In fact, she won three of the last four challenges, and the fire-making tiebreaker in the last Tribal Council that saved her from being eliminated.
Although Justine dominated the face-off challenges in Isla Purgatoryo—where she was able to beat six castoffs, paving the way for her return in the game—she failed to duplicate her winning streak in the individual challenges in Sonsorol.
However, Justine became safe in the Tribal Council three times—first was when she beat Cris in their face-off challenge, then when she placed second to Shaun in the Immunity challenge that enabled her to be safe in the surprise Tribal Council, and the last time was when Charles gave her the Immunity necklace after he chose the reward instead (a condo unit in Makati worth P2 million).
ADVERTISEMENT - CONTINUE READING BELOW
Before the counting of the votes, host Paolo Bediones asked the Final 3 if they regretted anything that they did while on the island. Justine took this opportunity to apologize to the family of Amanda, who were in the audience, for the hurtful words she said against Amanda while they were in the game.
CLICK HERE for more photos.