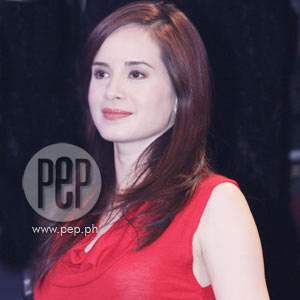 ---
Lucy Torres-Gomez believes that the entry of businessman Manny Pangilinan as the new owner of TV5 is a good sign, not just for the network itself but for the entire entertainment and broadcast industry as well.
Pangilinan's MediaQuest group acquired ownership of the Novaliches-based station after longtime owner Tonyboy Cojuangco sold his remaining shares. At the recently concluded 21st Advertising Congress held at Subic in Zambales, the network announced its plans for the coming year, which include producing movies.
"We're very optimistic in TV5 because we all know naman that Manny Pangilinan has parang Midas Touch. He's not the type of boss who would just sit back and relax. He's very proactive and I think that's the kick TV5 really needs to make it a major player in the television industry," Lucy told PEP (Philippine Entertainment Portal) at the launching of her album, Best Dance 100 Ballroom Hits, held at Discovery Suites recently.
The wife of actor Richard Gomez hosts TV5's dance program Shall We Dance?—one of the few remaining original shows of the network that has been able to survive management changes and transitions over the past years.
HEALTHIER NETWORK WAR. Lucy expressed the same sentiments voiced out by other parties concerning the two-sided network war between ABS-CBN and GMA-7, which has been going on for many years now.
The so-called duopoly has eventually created a policy of exclusivity where talents and artists are locked in under one network and prohibited to work outside their respective home stations.
TV5's strategy when it was relaunched in 2008 was to provide a free environment where talents coming from the two warring stations could work alongside each other. The tactic proved to be quite successful as viewers appreciate the novelty, thus propelling some of the network's shows to the top of the ratings contest.
ADVERTISEMENT - CONTINUE READING BELOW
But success breeds contempt and rumors are rife that bigwigs from the two giant networks are starting to feel uneasy with the idea of lending their stars to the fledgling competitor. Lucy, on the other hand, prays that TV5's practice of providing equal opportunities to everyone regardless of affiliation would inspire others to follow the same path instead of creating a vibe of unfair competition.
"It would be a healthier environment if there are more players kesa dalawa lang, and it's just one pitted against the other," the soft-spoken host said. "I hope the day would come that the network wars would be more graceful and artists can float through the different networks and we could all just work together in synergy. Because it's the same industry, we don't really have to take sides and set up camps against each other."
Negative issues aside, Lucy extends her support to the newly-dressed network's plans and goals for the future. With TV5's decision to produce movies starting next year, is Lucy entertaining the thought of trying her hand at acting?
"Hindi talaga," smiled Lucy. "'Yon talaga, I can say na I cannot do movies. In my dreams, if I were an actress, I'd be Dawn Zulueta. I would do the same projects she did, gusto ko lang mga love stories. But I'm really not cut out to be an actress. I can't cry at will. I'd just be laughing and laughing. Hindi ko talaga kakayanin talaga. But I'm a movie fan through and through. I like watching movies, but I just don't see myself acting."